ABOUT
The most-asked question about the Florida 500 each year: When's the deadline for nominations? We're glad to have nominations at any point, but early in the year is better. We need to have someone under consideration by February for them to have a real chance of making that year's list. Those who wish to suggest someone should read the publication to get a sense of what we're looking for.
Our high standards remain the same: We organize our selections using broad economic categories from the U.S. Department of Commerce, with the number of influentials in each sector roughly proportional to a category's share of the state GDP. Rising to the top job at a big company won't get you on the list. Longevity matters and visibility doesn't necessarily mean influence.
We look for individuals who appear to be the kind of people who others in their communities or industry sectors look to for leadership. We don't include current elected officials in the mix. We don't include more than three people from any single firm. We don't look just for statewide figures — Florida, as we note frequently, is a state of regions and communities that differ widely.
We acknowledge that the final picks are necessarily subjective. We do a lot of reading and informal consultation with businesspeople all over the state, but we make the calls. We put people on the list who don't want to be there, and we leave some off who'd definitely like to be there. Advertising plays no role in our selections. PURCHASE
The 2022 Florida 500 print edition is now available The editorial staff of Florida Trend recognizes Florida's most influential business leaders spanning across more than 60 business categories. The editorial selection of the 500 executives was based on extensive contacts in regional business circles, hundreds of interviews and months of research, culminating in a highly selective biographical guide to the people who really run Florida.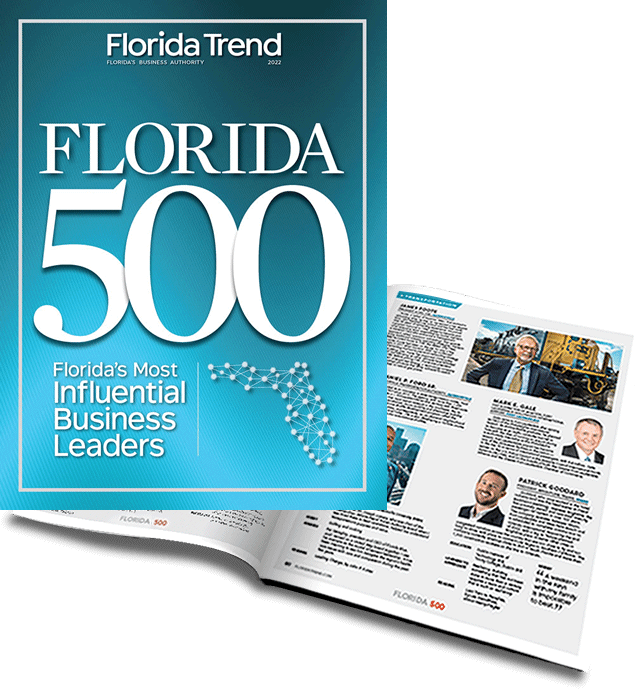 Florida Trend's
Florida 500
490 First Avenue South
St. Petersburg, FL 33701



© 2022 Florida Trend