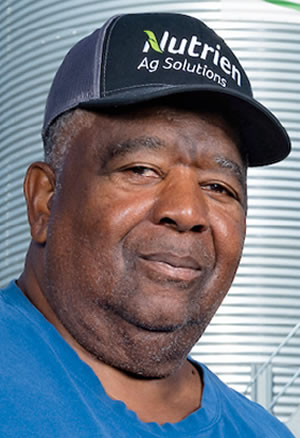 DONELL GWINN
OWNER, GWINN BROTHERS FARM, McALPIN
Donell Gwinn and his brothers, Robert and Clifford, have owned and operated their 1,137-acre farm in Suwannee County for more than 25 years. Robert recently retired. Highly regarded throughout the farming community in both Florida and south Georgia, the Gwinns grow corn and peanuts (used in Hershey chocolate bars), along with watermelons, iron clay peas, bahia grass seed, hay and beef cattle. In watermelon season, they operate a packinghouse in McAlpin.
In 2020, Donell Gwinn was recognized as outstanding agriculturalist of the year by the Florida Association of County Agricultural Agents. The farm is a leader in best management practices and conservation strategies and Donell mentors other farmers in practices that have improved water quality, reduced soil erosion, improved animal and plant health and enhanced wildlife habitat on their farm. Conservation measures have included herbaceous wind barriers, cover crops, conservation crop rotation, prescribed grazing, nutrient management, pest management, irrigation water management and upland wildlife habitat management.
In recent years, the Gwinns also have implemented precision agriculture technology, installing GPS systems in several of their tractors that are used for precision planting, precision nutrient application and precision pesticide application.
Donell and Robert Gwinn have been recognized by the Suwannee County Conservation District as conservation farmers of the year. Donell Gwinn served as a district supervisor for the Suwannee County Conservation District and is serving as an adviser to the Suwannee County Farm Service Agency County Operating Committee. He also has served as secretary and treasurer of the Florida Peanut Federation.