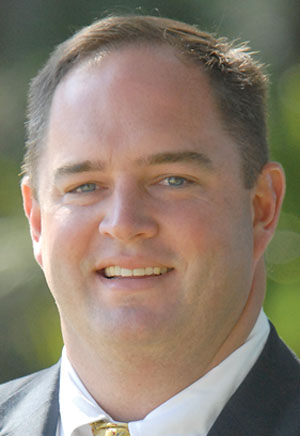 KEITH WEDGWORTH
MANAGER, WEDGWORTH FARMS, BELLE GLADE
The Wedgworth family has been active in farming in southern Florida since the early 1930s. Herman Wedgworth was the first plant pathologist at the University of Florida's Everglades Experiment Station, then bought land, began growing sugarcane and set up a supply business for farmers in the region.
After Herman was killed in an accident in 1938, his widow, Ruth, took over the family's business and grew it while raising the couple's three children.
Today, Wedgworth Farms grows sugarcane on some 10,000 acres in Palm Beach County and operates 10,000 acres of ranch lands in Osceola, Okeechobee and Indian River counties. Meanwhile, Wedgworth Inc. has become the state's largest custom fertilizer dealer, producing 200,000 tons of fertilizer products for farms annually.
Keith Wedgworth, a fourth-generation family member, joined the company in 1999 after earning a master's degree from the University of Florida. He has been active in a number of local and state business groups, including the Palm Beach County Business Development Board, and has defended agricultural interests from environmental groups who've sought to blame farmers south of Lake Okeechobee for pollution in the lake.