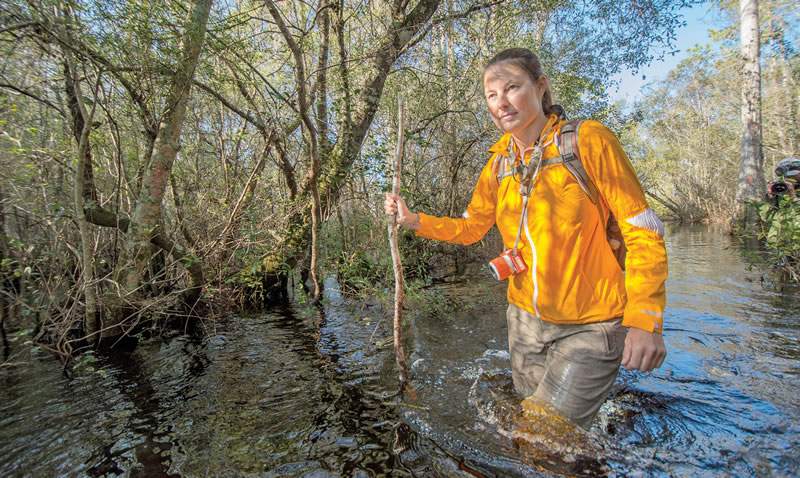 MALLORY LYKES DIMMITT
CONSERVATIONIST, VICE PRESIDENT FOR STRATEGIC DEVELOPMENT, LYKES BROTHERS, TAMPA
As an executive at Lykes Bros., Dimmitt helps her family-owned agri-business manage nearly 600,000 acres in Florida and Texas, where it has cattle, farming, forestry and hunting operations, as well as land set aside for water and land conservation. The company dates back to the 1870s, when Howell Tyson Lykes, a physician, left medicine to take over his family's 500-acre farm in Hernando County. Now based in Tampa, Lykes Bros. has been a major landowner and land manager ever since.
Dimmitt, a seventh-generation Floridian, has earned a variety of academic degrees — she has a degree in natural resources from the University of the South in Tennessee and won a Doris Duke Conservation Fellowship at Duke University's Nicholas School of Environment, where she earned a master's degree in environmental management. An avid conservationist, she's involved with the Florida Wildlife Corridor Expedition, an effort intended to protect wild lands in Florida and preserve space for wild animals, such as the Florida panther. The effort, which also includes Tampa-based wildlife photographer Carlton Ward, biologist Joe Guthrie and filmmaker Elam Stoltzfus, conducts expeditions throughout Florida, including a 100-day, 1,000-mile trek in 2012 from the Florida Everglades to the Okefenokee Swamp in southern Georgia.
The 2015 Glades to Gulf Expedition took Dimmitt, Guthrie and Ward from Central Florida to the Panhandle. Dimmitt also does strategic planning and organizational development for the Legacy Institute for Nature & Culture, a Florida-based conservation communications group.
"Ultimately, our goal is to help inspire people to keep Florida wild."