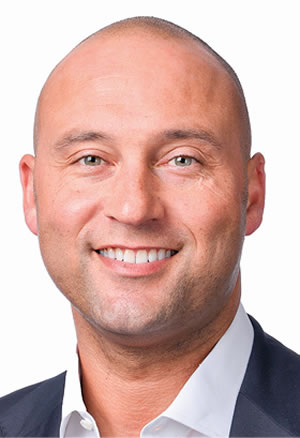 DEREK JETER
PART-OWNER & CEO, MIAMI MARLINS, MIAMI
Jeter, a one-time Tampa resident, is a five-time World Series champion and Hall of Fame shortstop who spent his entire playing career with the New York Yankees. Even amid that franchise's vaunted history — think Babe Ruth, Lou Gehrig, Mickey Mantle and Joe DiMaggio — Jeter stands out. He's the Yankees' all-time career leader in hits, games played and number of times on base. He was considered one of most consistent players of all time.
Jeter, who retired from baseball in 2014, is part of an ownership group that includes investor Bruce Sherman. They purchased the team in 2017 for $1.2 billion. Jeter, who owns 4% of the Marlins, runs the team's day-to-day operations. From a baseball perspective, the Marlins have improved from the team's last-place days to making the playoffs in the coronavirus-shortened 2020 season. The team has also been active in supporting the community during the COVID-19 shutdown. In April, the team — with Jeter helping to haul boxes — distributed its one-millionth meal dating back to the start of the organization's COVID-19 relief efforts.
Off the field, Jeter created the Turn 2 Foundation, which aims to help young people avoid drugs and alcohol. He's married to model Hannah Davis, and they have two daughters.