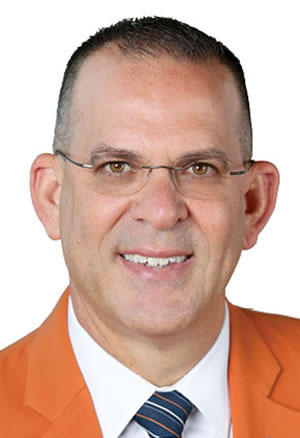 ERIC POMS
CEO, ORANGE BOWL COMMITTEE, MIAMI
Poms has served as CEO of the Orange Bowl Committee since 2006, setting the organization's strategic vision while working with volunteer leadership. During his tenure, the OBC has hosted seven national championship games, most recently in 2013. Poms has been involved in the evolution of the post-season college football structure and spearheaded the Orange Bowl's inclusion in the College Football Playoff system that began in 2014-15.
Poms grew up in Miami and graduated from the University of Florida with a business degree. He also has a master's degree from UF in exercise and sports sciences. While at UF, Poms was a student-manager and then head basketball manager for the men's basketball program. Before joining the OBC, he served as the coordinator of operations at the University of Nevada-Las Vegas, managing the school's athletic events, and also served as director of operations for the Las Vegas Bowl during this same period.
He has served on the executive committee of the Boys & Girls Club of Miami since 1996. He also worked with Big Brothers Big Sisters of Greater Miami mentoring inner-city youth. Nationally, Poms serves on the executive committee of the Football Bowl Association, where he previously served as chairman in 2014-15.