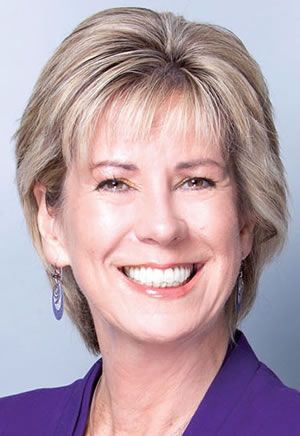 KAY RAWLINS
FOUNDER & SENIOR VICE PRESIDENT OF COMMUNITY RELATIONS, ORLANDO CITY SC; PRESIDENT, ORLANDO CITY FOUNDATION, ORLANDO
When Rawlins and her husband moved their professional soccer team from Austin to Orlando in 2010, the world's theme park capital (like many Florida cities) had a history of lackluster support for a major sports team. "We were told this will never work," Rawlins recalled in a 2017 TEDxOrlando talk. The Rawlinses ignored the naysayers, and a decade later, the MLS expansion team has a passionate fan base and ranked seventh among the MLS for highest average attendance in 2019. In 2016, the club added a women's team, Orlando Pride, and it opened a downtown stadium in 2017. A key part of the team's success, according to Rawlins, stemmed from its ability to tap into Orlando's growing population of millennials, who make up about 40% of MLS' fan base.
Following her 2017 divorce from Phil Rawlins, Kay has become the face of Orlando soccer. Under her direction, the soccer club's charitable arm has spearheaded initiatives to tackle child obesity by installing community gardens and "mini-pitches," small courts where the foundation offers free soccer programming, in underprivileged communities. The soccer club is also a vocal advocate for the LGBTQ community, winning Rawlins the 2019 Corporate Ally of the Year award from The Pride Chamber, Central Florida's LGBT Chamber of Commerce.
Rawlins — who is originally from England and owned and ran two private preschools there before moving to the United States in 2004 — is a board member of the Florida Sports Foundation, the Boys & Girls Clubs of Central Florida, the Central Florida Foundation, the Cannonball Kids Cancer Foundation and the 4Roots Foundation.
"Sports teams have a voice in their community unlike any other, and it's my belief they can and should use it to make their community a better place."