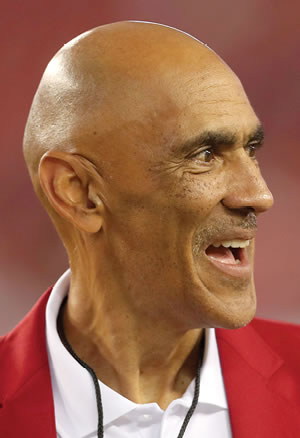 TONY DUNGY
BROADCASTER, FORMER NFL COACH, TAMPA
Dungy retired from coaching in 2009 — and he's possibly more well-known now than he was then. A Super Bowl-winning coach in 2007 with the Indianapolis Colts, Dungy is a broadcaster now, focusing on the NFL, but he has also been an outspoken commentator on social issues, particularly in the wake the George Floyd killing and other high-profile cases. He believes athletes should be free to speak about social justice.
"Athletes have a big role," he told a New York City radio station last year. "They have a big voice, and we can step up and be part of the solution."
For Dungy, that has meant advocating for strong families and focusing on a variety of philanthropic efforts, including the Dungy Family Foundation. He also helped create All Pro Dad, a non-profit based in Tampa that's intended to help men become better fathers and role models to their kids.
Dungy, 66, moved to Tampa in 1996 after he was named head coach of the Tampa Bay Buccaneers. He took the Bucs to the playoffs three times but was fired in 2001 and became head coach of the Indianapolis Colts. His 2007 Super Bowl win was the first by an African-American coach, and he was elected to the Pro Football Hall of Fame in 2016.