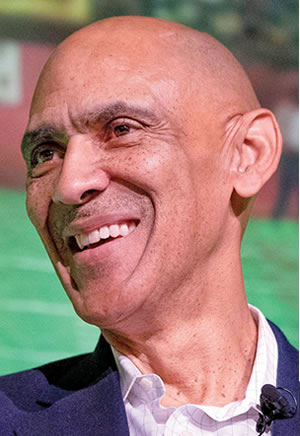 TONY DUNGY
FORMER NFL COACH & BROADCASTER, TAMPA
Dungy is the rare athlete and coach who is known just as much — if not more — for what he has done outside of sports than what he did as a professional football player and Super Bowl-winning coach.
On the sports side, Dungy played football at the University of Minnesota well enough to earn a pro contract in 1977 from the Pittsburgh Steelers. Before beginning his coaching career in 1980, Dungy was a defensive back and special teams player for the Steelers and contributed to the team's Super Bowl championship in 1978. His first head coaching job came in 1996 with the Tampa Bay Buccaneers, which he took to the playoffs three times before being fired in 2001 and moving on to the Indianapolis Colts, which he led to a Super Bowl win in 2007, making him the first African-American coach to win a Super Bowl. Dungy was also the first NFL head coach to beat all 32 NFL teams.
He retired from coaching in 2009 to turn his attention to a variety of philanthropic efforts, including the Dungy Family Foundation. He's also a former member of the President's Council on Service and Civic Participation, and he helped create All Pro Dad, a non-profit based in Tampa that's intended to help men become better fathers and role models.
Sought out for his advice and mentorship by celebrities, CEOs and young people alike, Dungy is an evangelical Christian who has also worked with the Fellowship of Christian Athletes, Athletes in Action and Mentors for Life.
After coaching, he joined NBC Sports to be an analyst for the network's Football Night in America broadcasts. Dungy, who turned 65 in October, was elected to the Pro Football Hall of Fame in 2016.
"I assumed my legal practice would focus on gender equality in athletics forever. But about 2002, Title IX athletics moved into campus sexual violence."
"It's just really making sure I am doing the best job I can do as a dad. I do think that is my No. 1 job."