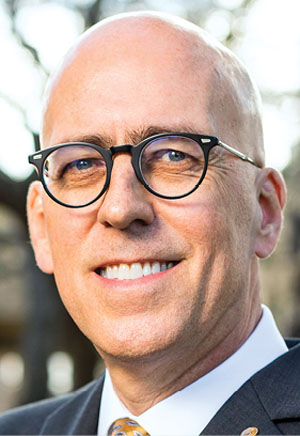 THAD SEYMOUR JR.
former interim PRESIDENT, UNIVERSITY OF CENTRAL FLORIDA, ORLANDO
Seymour, who left his interim president's role at UCF this year as Alexander Cartwright took over, is credited with stabilizing the school after a series of scandals, including misuse of appropriated funds and a bribery investigation involving three faculty members at the school's Institute for Simulation and Training. Before coming to UCF, Seymour had been senior vice president of Tavistock Development, where he led strategy and business development for Lake Nona Medical City and helped attract more than $3 billion in health and life sciences investments. He also led the recruitment of the United States Tennis Association to Orlando and founded and served as president of the Lake Nona Institute, a not-for-profit organization that drives innovative collaboration at Lake Nona.
After retiring briefly, he was hired by UCF to oversee the development of UCF's downtown campus. When the school's former president resigned amid the appropriations controversy, the UCF board asked him to serve as interim president.
Seymour has an undergrad degree from Dartmouth College, master's and Ph.D. degrees from the University of Wisconsin and an MBA from Northwestern University. His late father was president of Rollins College.
He served as a board member of BioFlorida and was the 2015 recipient of the BioFlorida Leadership Award. He has also served on the board of Visit Orlando and the president's advisory council of Valencia College. "I believe that a true innovation economy is built on three things: Talent, ideas and capital. As we focus throughout the state on diversifying our economy by building and growing knowledge-based industries, we must invest in our universities as the essential talent and idea engines for that new economy," he says.