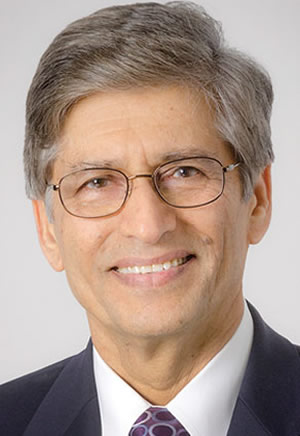 D. YOGI GOSWAMI
DIRECTOR, CLEAN ENERGY RESEARCH CENTER, USF, TAMPA
Born in India, Goswami earned a bachelor's degree from the University of Delhi and a Ph.D. from Auburn. After receiving his doctorate, he traveled, with no planning, by road through Europe, Eastern Europe, Turkey, Iran and Afghanistan to India.
Goswami's field is solar energy, energy efficiency and indoor air quality. He invented and developed a photo-electrochemical air-cleaning technology, which destroys pollutants in the air rather than just filtering them. This technology is being marketed by a company, Molekule, which he co-founded and where he serves as the chief science and technology adviser.
A distinguished professor at USF, Goswami has written more than 20 books about renewable energy and has more than 40 years of experience in education, research, entrepreneurship and policy. "The toughest challenge in the field of solar energy was to convince people back in the 1970s and 1980s that solar energy is a viable energy solution for our future," he says.
Goswami has testified in front of Congress about energy policy and the transition to renewable energy. He's also worked with other governments to establish renewable energy options. He has been president of the International Solar Energy Society and governor of the American Society of Mechanical Engineers-International.
He has received numerous awards, including the Karl Boer Medal for Solar Energy, and was inducted in the Florida Inventors Hall of Fame in 2016.