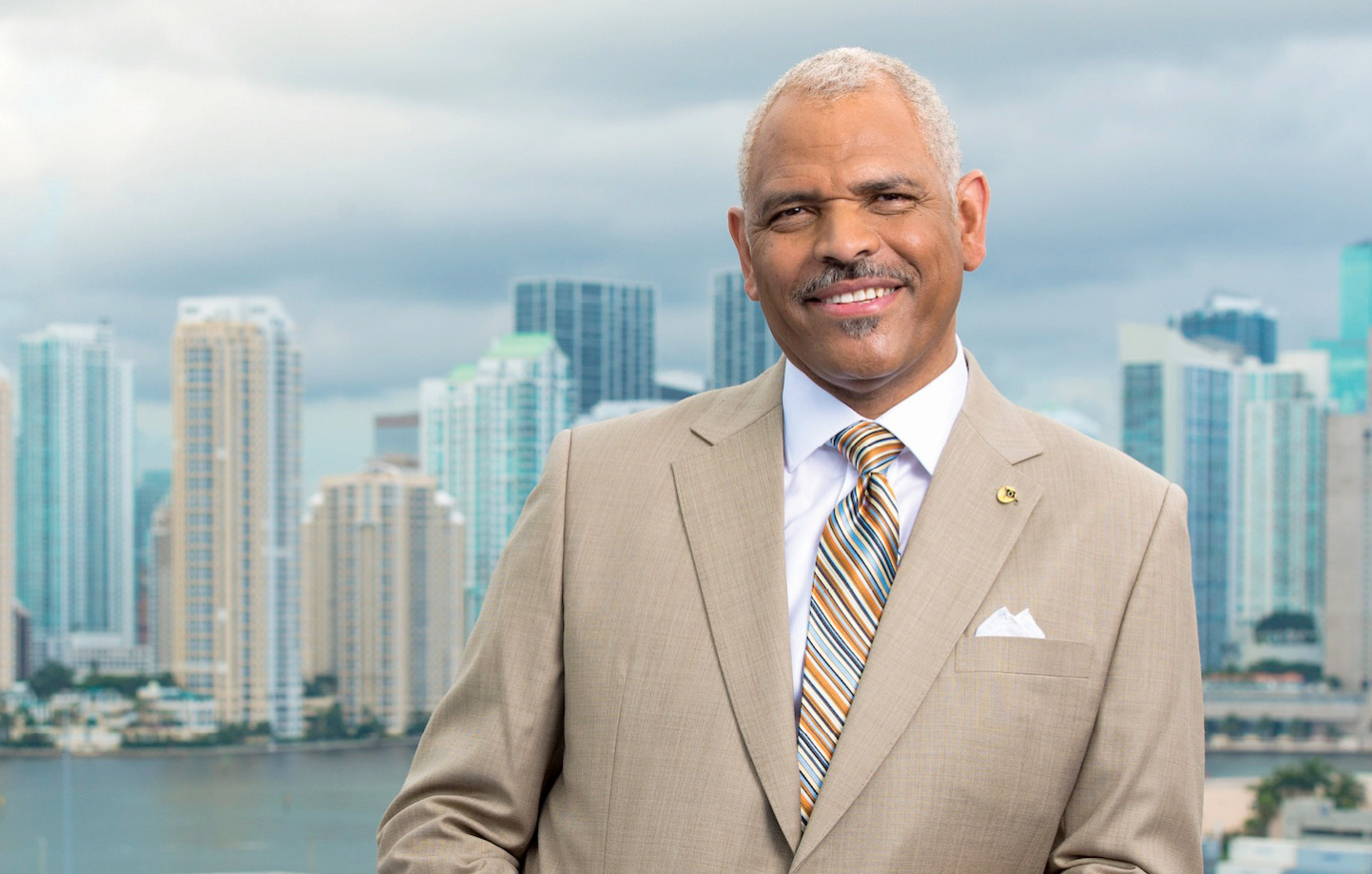 ARNOLD DONALD
PRESIDENT & CEO, CARNIVAL, MIAMI
Donald grew up in the Ninth Ward of New Orleans during segregation. "My father was a carpenter, and he built the house we lived in," Donald says. "I was the youngest of five children, and over time my parents welcomed a total of 27 foster children." Donald went to St. Augustine High School, a Catholic school for African-American boys in New Orleans, which he credits for giving him the confidence to "be successful and make a difference in the world."
"Every day, three times a day over the P.A. system, they would announce, 'Gentlemen, prepare yourselves. One day, you're going to run the world,' " he recalls. "The high expectations of that message helped inspire me to dream big." Donald received two bachelor's degrees — one in economics from Carleton College in Northfield, Minn., and the other in mechanical engineering from Washington University in St. Louis.
"My goal was to always differentiate and at the same time be prepared," he said during an interview with CNBC. While getting his MBA at the University of Chicago, he talked to a number of CEOs about their careers, and the "takeaway I got was, make sure every job you have prepares you to excel in the next job," he told CNBC. "So I mapped it out. I had a whole career plan, and then I executed it."
His first job was at St. Louis-based agrochemical company Monsanto, where he rose to become general manager at 32. Roughly two decades later, he joined a group of investors to buy Monsanto's Equal sugar substitute. They formed a new company, Chicago-based Merisant, with Donald as CEO and chairman. After five years, he retired at 51. In 2013, Carnival approached Donald about succeeding Micky Arison as CEO. Arison, who led Carnival as CEO for 34 years, remains chairman.
"I was semi-retired and wasn't sure I wanted to jump back into the corporate world," Donald, a former 12-year Carnival board member, told Florida Trend in 2019. "Now, looking back, I realize I should have been begging for the opportunity. We are in the business of fun and taking people on vacation. Of course, it's a serious responsibility to be entrusted with people's precious vacation time, and we are absolutely focused on exceeding guest expectations in everything we do, but we have fun while doing it. We have a great time helping people create lasting vacation memories, and we can't ask for much more than that out of work."
When Donald took over at Carnival, the company was reeling from two major incidents that drew worldwide attention. Several months earlier, an engine room fire aboard Carnival Cruise's Triumph ship left it stranded in the Gulf of Mexico, forcing passengers and crew to endure unsanitary conditions for days. In early 2012, the company's Costa Concordia ship capsized off the coast of Italy, killing 32 people. Industry analysts say Donald subsequently helped Carnival regain public trust by overseeing effective marketing, public relations and consumer engagement strategies and funding technology upgrades to its ships. He now must steer the world's largest cruise-ship company through the coronavirus pandemic. In March, after several high-profile onboard outbreaks of COVID-19, Carnival suspended all cruise operations. A month later, Donald appeared on CNBC's "Closing Bell," sounding somewhat optimistic. "Social gathering at some point will return, and when it does, people will want to cruise," he said. "We've had substantial bookings. Bookings for 2021 are strong."