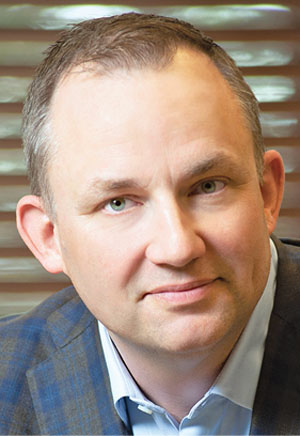 NEIL HUNN
PRESIDENT & CEO, ROPER TECHNOLOGIES, LAKEWOOD RANCH
Hunn, who earned his MBA from Harvard Business School and his bachelor's from Miami University in Ohio, served 10 years at Atlanta-based MedAssets in a variety of positions before he joined Roper. The firm, with annual revenue of more than $5 billion, operates businesses that design and develop software and engineered products and solutions for a variety of niche markets, including radio frequency technology and imaging and energy systems and controls. Under former CEO Brian Jellison, who died in 2018, the company achieved 19% compound annual shareholder return from 2003-17 and grew its market cap from $1.5 billion to more than $30 billion. The company is a component of the S&P 500, Fortune 1000 and Russell 1000 indexes and trades on the New York Stock Exchange.
Hunn took over as CEO after Jellison resigned because of a health condition The company credits him with "driving the growth and capital deployment activities throughout Roper's businesses."
Among its acquisitions in 2019 was the $544.5-million deal for Foundry, a British software company that provides visual effects and 3-D design software.