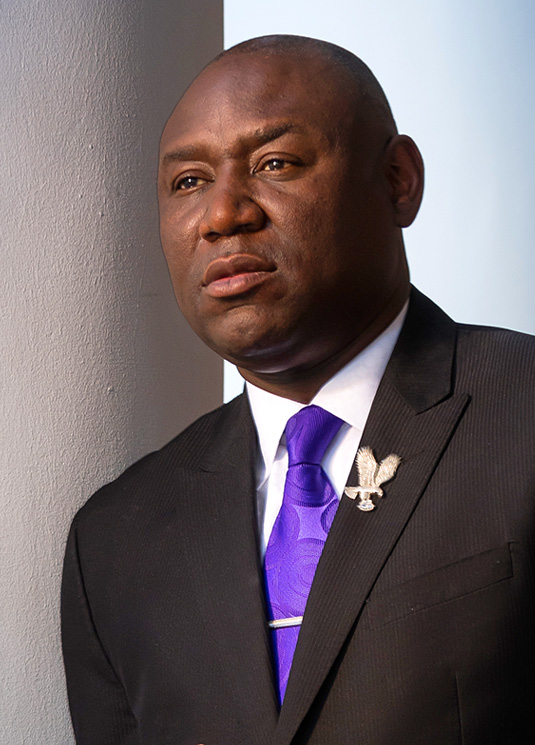 BEN CRUMP
FOUNDER, BEN CRUMP LAW, TALLAHASSEE
Crump isn't in the courtroom as frequently as he once was, but his influence has grown as he has emerged as one of the nation's leading civil-rights attorneys, particularly for the families of African-Americans injured or killed by law enforcement.
The FSU graduate and longtime Tallahassee attorney became a Florida-wide figure in 2006 when he represented the family of Martin Lee Anderson, a 14-year-old boy who died after being beaten and choked by guards at a Panama City boot camp. In 2012, he represented the family of Trayvon Martin, the 17-year-old shot to death by neighborhood watch volunteer George Zimmerman while walking in Sanford. Now he is representing the family of George Floyd, who was killed by a police officer in Minneapolis, setting off a series of worldwide Black Lives Matter demonstrations. Other clients included the families of minorities who were killed by police or died while in custody in Los Angeles, Cleveland, Washington state and Palm Beach County, among others.
In 2017, Crump partnered with John Morgan's Morgan & Morgan law firm to launch Ben Crump Law, which has offices in Washington, D.C., Los Angeles and Tallahassee. The firm also specializes in personal injury and wrongful death.
Crump was the first African-American chairman of the Federal Bar Association for the Northern District of Florida and of the Florida State University College of Law board of directors. He's been on both the National Trial Lawyers' Top 100 Lawyers and Ebony magazine's Power 100 Most Influential African-Americans and has served as president of the National Bar Association.
"We, as lawyers, have to show that our profession tries to help present solutions for our society to make it a better place," he told Florida State Law magazine. "We have to be ambassadors for the profession. When we try to provide a voice for the voiceless and we try to make sure that everybody is given equal justice under the law, it helps our profession to be viewed as a noble profession."