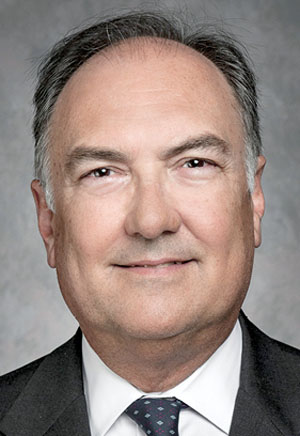 EDUARDO ALFONSO
CHAIRMAN & DIRECTOR, BASCOM PALMER EYE INSTITUTE, UNIVERSITY OF MIAMI, MIAMI
Born in Cuba, raised in Puerto Rico and educated at Yale, Alfonso is an expert on ocular infectious diseases. He documented an increase in an aggressive form of fungal corneal infection related to soft contact lens use, findings that drew worldwide media coverage and significantly reduced the number of new infections. His research interests include development and clinical applications of keratoprosthesis, an artificial cornea, which shows significant promise for patients awaiting transplants in developing countries. With a team of investigators from the University of Miami, Alfonso is also spearheading ways to rapidly identify sight-threatening eye infections. Alfonso has performed more than 1,000 corneal transplants in adults and children.
Alfonso has led University of Miami's Bascom Palmer Eye Institute for more than a decade. Each year for the past 15, the ophthalmology institute has ranked No. 1 in the nation by U.S. News & World Report.
Alfonso is immediate past president of the Pan American Association of Ophthalmology. The organization provides continuing education and promotes scientific and cultural exchange among ophthalmologists.