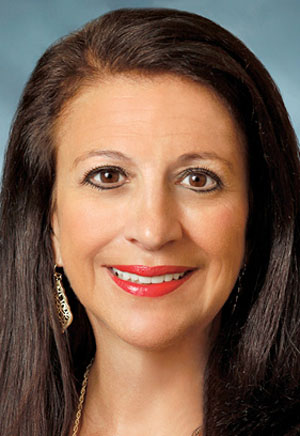 GINA MELBY
CEO, JFK MEDICAL CENTER, ATLANTIS
CEO of the 472-bed acute care medical center since 2004, Melby began her career as a licensed physical therapist. She earned a bachelor's degree at the University of Miami, a master's degree at Nova Southeastern in science/medical management and became COO, then CEO, at Northwest Medical Center. There, she gained approval for capital expansion projects in excess of $30 million to expand the hospital by 40 beds and expand its vascular center. She also helped develop new services and increased growth, revenue, physician resources and marketing.
Melby has helped grow the center from a community hospital to a major tertiary center, developed two freestanding emergency rooms in Boynton Beach and Palm Beach Gardens and managed the merger of JFK Medical Center and West Palm Hospital. She also helped develop an internal medicine residency, general surgery residency, podiatric surgery residency, a hospice and palliative care fellowship and a cardiovascular disease fellowship at JFK. Since their inception, 195 residents and fellows have graduated, with 68 remaining in South Florida to begin their careers.
During her tenure, JFK has undergone an $108-million expansion and renovation, adding a three-story patient unit of 72 medical-surgical, intensive care beds, emergency room expansion of 78 treatment rooms and an eight-story parking garage.
Melby was honored with a leadership award in 2018 by the Palm Beach Medical Society. She has served as chair of the Business Development Board of Palm Beach County and is a member of the EMS Advisory Board and the Economic Council.