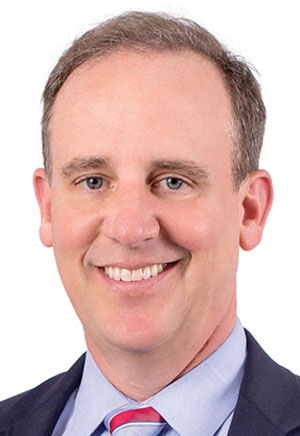 MARK FAULKNER
PRESIDENT & CEO, BAPTIST HEALTH CARE, PENSACOLA
Baptist Health employs more than 7,300 in 17 states. The chain, which began more than 65 years ago in Pensacola, now includes Baptist, Gulf Breeze and Jay hospital campuses, four medical parks, Andrews Institute for Orthopaedics & Sports Medicine, a growing employed physician network and Lakeview Center (behavioral health services), FamiliesFirst Network (family and child protective services) and Global Connections for Employment (employment for people with disabilities).
Faulkner, who has bachelor's and master's degrees from the University of Alabama, has been CEO in Pensacola for eight years. He decided on health care management as a career after working for the dean of the University of Alabama's business school and being exposed to a wide range of businesspeople. He says he "fell in love with the idea that a career in business could have direct and indirect impact on an individual's quality of life and health."
His biggest challenge as CEO of Baptist, he says, came in 2004 after Hurricane Ivan, which knocked out power and water for a week and caused some $56 million in damage to Baptist's facilities. The community and organization had to improvise a response, but "through it all, we never evacuated patients," he says.
Faulkner is a big fan of Pensacola businessman and developer Quint Studer, whose "passion for employees, his drive for excellence, his commitment to community and his emphasis on leadership development caused me to think differently about my roles and responsibilities."
Baptist made contributions of more than $1 million to local agencies in 2018, but the organization's biggest recent local civic effort, Faulkner says, has been in helping to found Achieve Escambia — "a collective impact model to elevate educational outcomes" in the region. Baptist also has established a division to provide employment opportunities for people with disabilities called Global Connections to Employment, which now employs about 1,500 people with disabilities in 12 states and Washington, D.C.
"What I like most about my line of work is the direct impact on people we serve. Health care is an industry that provides curing, caring, relief and hope. That provision is carried out with people in all walks of life and in all stages of life on an individual basis."