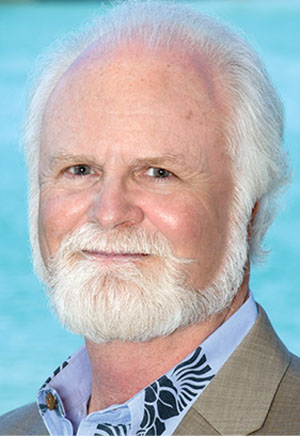 MICHAEL P. CROSBY
PRESIDENT & CEO, MOTE MARINE LABORATORY AND AQUARIUM, SARASOTA
Crosby directs one of the state's most significant marine research labs, a Sarasota facility that doubles as a tourist draw. Mote's research focuses on the problems facing the Gulf of Mexico from the impact of oil spills, dying coral and the loss of scallops and other shellfish along the coast. Mote has also been a state leader in red tide research, work that Crosby says must continue despite challenging times.
"Understandably, Florida red tide is not the first thing on most people's minds today, as we face the unfolding emergency of the COVID-19 pandemic," he says. "Our highest priority is to support each other and protect public health during this crisis, and we sincerely thank the frontline responders for their vital, tireless efforts. At the same time, extensive research and centuries of history tell us that Florida red tide will return, and we have not forgotten how drastically it affects our health, economies, ecosystems and quality of life. COVID-19 has not stopped the progress of this important initiative. Our scientists are dedicated to red tide mitigation and technology development because we believe that reducing the stress of these harmful algal blooms will leave our communities stronger and more prepared to respond to each new red tide challenge we face together."
Crosby, Mote's CEO since 2013, is a scientist with more than 30 years of research experience in marine-related topics. Before taking over as CEO, he served three years as Mote's senior vice president for research. Two years ago, he announced plans for Mote to build a $130-million aquarium within the boundaries of Sarasota's Nathan Benderson Park, located across town from Mote's home just south of Longboat Key.
"You cannot separate Mote from the community or the community from Mote."