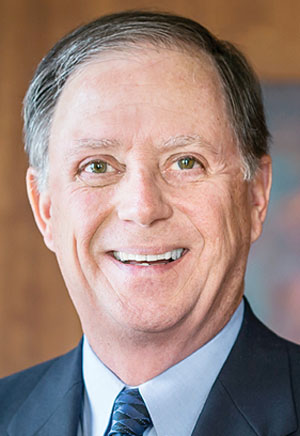 LOCKE BURT
CHAIRMAN & CEO, SECURITY FIRST INSURANCE, ORMOND BEACH
"My wife and I were fixed up on a blind date by both her parents and mine when she was 17 and I was 19," Burt says, "and we have now been married 49 years."
The graduate of Northwestern University (BS, MBA) and Loyola (JD)started his career as a loan officer in a commercial bank in Chicago. He worked on his law degree at night, entered the reinsurance business in 1974, sold part of a reinsurance operation in 1990 and served as a Florida state senator for 12 years.
After the hurricanes of 2004 and 2005, he started Security First Insurance, an underwriting manager for property reinsurance risks for Swiss Re, Markel and others. The company began with 14,000 customers and five employees and has grown to employ about 400 serving 300,000 customers.
In 2019, the company opened a new 133,000-sq.-ft. headquarters. In 2020, Burt's daughter, Melissa Burt DeVriese, became president and Locke became CEO and chairman.