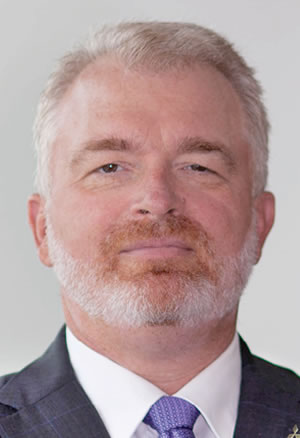 PAUL BROWNING
PRESIDENT & CEO, MITSUBISHI POWER, LAKE MARY
Brown has a bachelor's degree from Carnegie Mellon and a master's in materials engineering from Rensselaer Polytechnic. He was president and CEO of Irving Oil before joining Mitsubishi Power. He's been CEO since 2016.
Mitsubishi Power designs, builds, installs, monitors and services wind, gas and geothermal-powered turbines, generators and environmental control systems throughout North and South America. The company's Central Florida operations employ some 1,000 technicians, including more than 700 employees in an Orlando factory. It has a strong intern program involving UCF students. Overall, the company employs more than 2,000, with service facilities in Georgia, Texas, Missouri and Canada.
In 2020, Browning got an expanded role as chief regional officer of the Americas and co-chief regional officer of Europe, the Middle East and Africa. In that capacity, Browning heads two global businesses in the United States and three regional businesses in North and South America. He works with chief executives and their management teams to coordinate strategic planning in the region and globally.
Browning has expanded the company's reach into the Latin American energy market and also has led market expansion into renewable power project development, energy storage and artificial intelligence products and services. With three decades of high-level corporate experience, including a stint running GE Power & Water's thermal products division, Browning says the power industry is undergoing a major transformation from coal-generated electricity to renewables.
"The power industry is undergoing rapid change. No other company is as broadly positioned to serve the mega trends of decarbonization and advancing human prosperity in the EMEA (Europe, Middle East and Africa) region," Browning says.