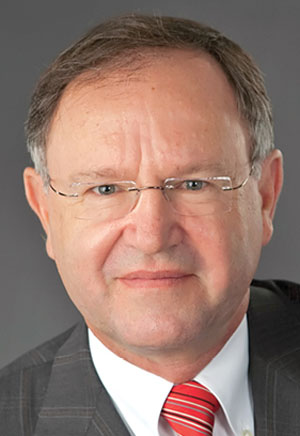 REINHOLD SCHMIEDING
FOUNDER & PRESIDENT, ARTHREX, NAPLES
Schmieding is that rare creature — a Florida home-grown multi-billionaire who's built a world-class company here. (Forbes had him recently at No. 308 on its billionaire list with $4.1 billion. Bloomberg had him at $6 billion.) Born in Michigan of German immigrant parents, Schmieding was raised in Bloomfield Hills. "I loved sports and lettered in tennis, hockey, soccer, golf and track and field in high school," said the man Forbes once described as the Secretive Sultan of Sports Medicine. "That was the beginning of my interest in sports medicine. In addition, everyone in my family has a medical background. Most are physicians, so there was an unspoken destiny of the Schmieding family to go into medicine."
Schmieding instead started Arthrex in Munich in 1981 before later moving it to Naples. It makes tools and devices for orthopedic surgery. Schmieding is as talkative to the news media as a statue, but he's set the bar for finding out what doctors need and creating it for them — usually 1,000 new products and procedures a year.
Schmieding himself still regularly gets an inventor credit on Arthrex patent applications. In the COVID-19 crisis, the company pivoted to making and donating personal protective equipment for first responders and health care workers in its region. Schmieding's been the gift that keeps giving for job creation in Southwest Florida. Arthrex employs 3,225 of its 5,600 globally in Florida, many of them high-paid, high-skilled workers. The company funds "trips of a lifetime" for workers celebrating employment milestones and has an in-house wellness and medical center for employees. Schmieding has said he wants a blend of European and American workplace styles.
Volunteering is encouraged and incentivized. Arthrex is a major community donor and supporter, not above using its weight to get what it wants from government.
"I began Arthroscopy Excision Instruments (before shortening the company's name to Arthrex) without any outside financing in a market that didn't exist yet — arthroscopic surgery."