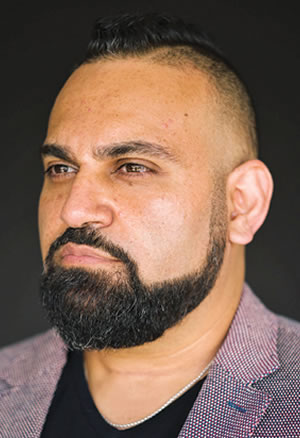 NABYL CHARANIA
CEO, ROKK3R, MIAMI
Born in Nairobi, Kenya, Charania moved with his family to Toronto as a teenager and attended the University of Waterloo in Ontario, where he received a bachelor's degree in mathematics. He moved to Miami around 15 years ago after his employer was acquired by a Florida company. He's since become a leading force in Miami's technology startup scene. As co-founder and CEO of Rokk3r Labs, he and his team helped establish more than 50 companies through Rokk3r's co-build philosophy of working with entrepreneurs to create and grow businesses.
He led the merger of Rokk3r Labs and its holdings into Rokk3r Inc., where he serves as chairman and CEO and continues to focus on building and acquiring companies in industries like social commerce, insurance and fintech. Rokk3r acquired AI companies AdMobilize and Matrix Labs in 2021 and was named to Inc.'s Best Workplaces list for 2020.
Charania is also founding partner and general partner at Fuel Venture Capital. The $200-million venture capital fund offers smart capital and resources to entrepreneurs working in sectors including space, construction and extended reality and has invested in companies such as Taxfyle and Bolt Mobility. He is also a member of the XPRIZE Vision Circle.