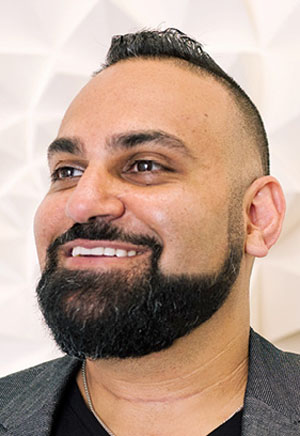 NABYL CHARANIA
CEO, ROKK3R, MIAMI
Charania is a leading force in Miami's technology startup scene. As CEO of Rokk3r, he works with entrepreneurs to create and grow companies. Founded in 2012, Rokk3r calls itself a co-builder, offering a startup everything from a business plan and legal support to technology, employees and office space. Three years ago, it launched an investment fund with plans to deploy capital to local startups. "We have employees in the U.S., Latin America and Europe and focus not only on changing the world, but on finding talent, creating new opportunities and making the world a better and more connected, efficient place to live," he says.
Born in Nairobi, Kenya, Charania moved with his family to Toronto when he was a teenager and attended the University of Waterloo in Ontario, where he earned a bachelor's degree in mathematics. He moved to Miami 15 years ago after his employer was acquired by a Florida company.
"From a young age, I've always forged my own path forward that's been informed by an understanding of the power of technology," he says. "Over the years, I began to see how computing power democratized and continues to democratize access and information. Something about him that might surprise people, he says, is that he wears high-top sneakers to work every day.