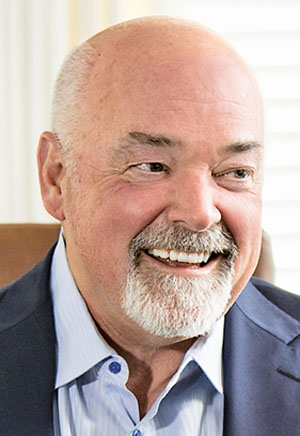 PAUL BRADSHAW
FOUNDER & CHAIRMAN, SOUTHERN GROUP, TALLAHASSEE
As a young man, Bradshaw's first job was building seawalls out of coquina boulders in Brevard County. Realizing he was "one industrial accident away from being destitute" he looked for something non-boulder-related and decided law school might work.
He caught the "public policy bug" clerking for Gov. Bob Graham after law school and then joined Gov. Bob Martinez's administration, serving as chief Cabinet aide and later directing the state's growth management program and Office of Policy and Budget. In 1998, Bradshaw worked behind the scenes on Jeb Bush's gubernatorial campaign, helping to write the "A+ Plan for Education" that would ultimately become Bush's defining legacy. A year later, he and David Rancourt founded the Southern Strategy Group, which has grown to become one of Tallahassee's most prominent lobbying shops with hundreds of clients ranging from Apple to Airbnb to U.S. Sugar.
The firm, which rebranded last year as the Southern Group, has nine offices across four southern states — six in Florida and one in each of the state capitals of Alabama, Georgia and South Carolina. Affiliated offices include the Midwest Strategy Group in Lansing, Mich., and another in Baton Rouge, which uses the Southern Strategy Group moniker.
The longtime lobbyist is married to former Bush adviser Sally Bradshaw, who left politics a few years back to open Tallahassee's only independent general-subject bookstore, the Midtown Reader. The couple live on a farm in Gadsden County, where they raise rare breeds of chickens. They also dabble in development. Their Freight Yard project, a mixed-use development in Tallahassee's arts district, is constructed from "upcycled" shipping containers.
"I went to FSU law school, clerked for Gov. Bob Graham and got the public policy bug. From there, it was a natural progression to a career in state government, then administrative litigation in the private sector and finally the purest form of policy development: Lobbying."