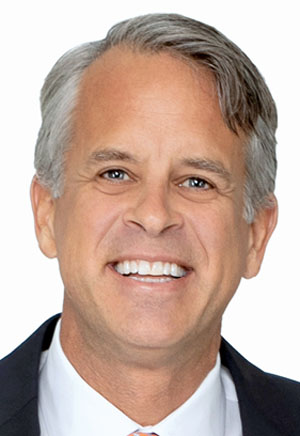 BOBBY JULIEN
CEO, KOLTER GROUP, WEST PALM BEACH
Julien leads Kolter Group, a diversified real estate investment company involved in land acquisition and development, including condos, residential communities and hospitality properties. And he has been quite busy.
In October 2020, Kolter's urban division received approval for 3000 Alhambra, a two-building, 26-story oceanside condominium project in Fort Lauderdale that will include restaurants, retail and open spaces. Construction is already underway at two Tampa Bay Kolter Urban luxury condo projects: St. Petersburg's Saltaire, where units are priced between $850,000 and $1.7 million, and Tampa's 22-story Hyde Park House, where units start at $900,000. In April, the company's land division announced plans to build up to 650 single-family homes, townhomes and apartments on 185 acres in Charlotte County's Murdock Village. Recent Florida projects also include 100 Las Olas — at 46 stories the tallest building in Fort Lauderdale — with condos and a hotel, as well as the Ritz-Carlton Sarasota, Hyatt Place Boca Raton, PGA Village Veranda with 27 pickleball courts, and the Veranda community near Fort Myers.
In all, Kolter Group, with about 850 employees throughout its affiliated business units in the southeastern U.S., has invested in residential, commercial and hospitality focused projects valued in excess of $15 billion.
Among community initiatives, Kolter is a founding partner of Project Next for Palm Beach School for Autism that is helping expand the school's kitchen and culinary and hospitality programs. In addition, students also rotate through jobs and can get paid internships at Kolter's hotels. Julien studied finance at McGill University.