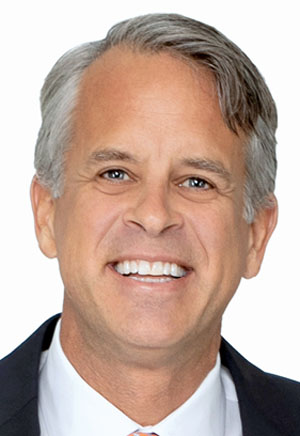 BOBBY JULIEN
CEO, KOLTER GROUP, WEST PALM BEACH
Julien is responsible for the overall direction of Kolter Group, a diversified real estate investment company involved in land acquisition and development, including condos, residential communities and hospitality properties. He has been quoted as saying the firm prides itself on finishing what it starts, and Kolter's reputation in Florida was enhanced when it completed projects that had been affected by the Great Recession.
Kolter Group, with about 850 employees throughout its affiliated business units in the southeastern U.S., has invested in projects with expected value in excess of $15 billion.
Recent Florida projects include Hyatt Place Boca Raton, the Westin Sarasota, the Veranda community near Fort Myers and the 41-story One St. Petersburg condo tower. In January, the company announced an "orderly transition" of Kolter's ownership interest in Kast Construction, a company Kolter founded 15 years ago. "We look forward to launching several new projects in Florida this year, and Kast will be our contractor," Julien says.
Kolter is a founding partner of Project Next for Palm Beach School for Autism that is helping expand the school's kitchen and culinary and hospitality programs. In addition, students also rotate through jobs and can get paid internships at Kolter's hotels, which include various South Florida Hyatts, a Hilton and a Westin hotel. Kolter is also among the main sponsors of a high-stakes charity poker tournament in Palm Beach County that in 2019 raised more than $1.5 million for 17 charities.