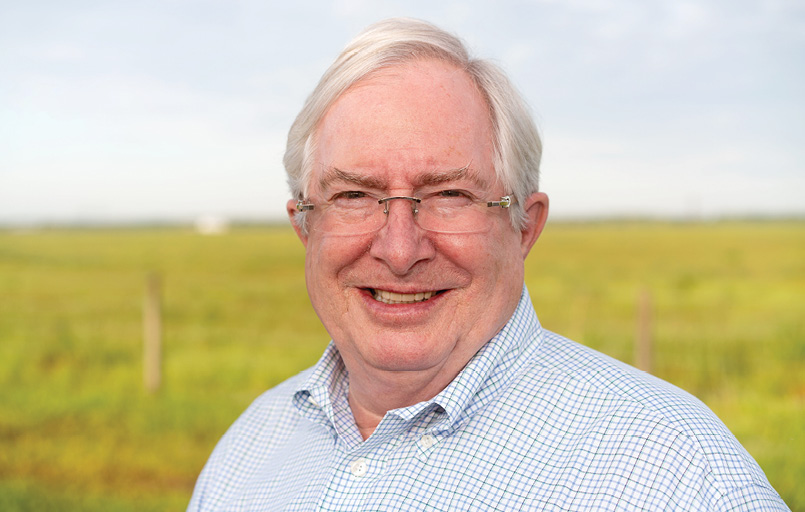 DON WHYTE
VICE PRESIDENT, PLANNING, DESERET CATTLE & CITRUS, ST. CLOUD
Whyte manages long-range planning for the 295,000-acre Deseret Ranch in Central Florida, which is owned by an entity of the Church of Jesus Christ of Latter-day Saints. He worked on a state-approved plan for future development on 133,000 acres of Deseret's farm and ranch land in Osceola County. The first project to be developed there, Sunbridge, is being constructed in partnership with Tavistock and will encompass some 24,000 acres and include 30,000 residential units. The long-range plan anticipates as many as 500,000 people living on Deseret's former ranch lands by 2080.
Whyte's first development project in the late 1970s was at a lake-oriented community in Calgary, Alberta. "We constructed Toboggan Hills, vegetated it like a forest, created natural features from scratch. We planted more trees. I thought that was spectacular," he told the Tampa Bay Times in a 2006 interview. He later moved to Tampa Bay, and as president of the Newland Communities' Southeast region spearheaded a range of housing developments, including Fishhawk Ranch, MiraBay and Pasco County's Bexley Ranch.
Canadian-born Whyte joined Deseret Cattle & Citrus in May 2014 after serving as president of Kennecott Land, where he oversaw "envisioning" for Rio Tinto's extensive land holdings in Utah and directed development of non-mining land, including the Daybreak community in southwest Salt Lake County, which is one of the best-selling master-planned communities in the nation.
He sits on the board of the East Orlando Chamber of Commerce and the Kissimmee Chamber of Commerce and is vice chairman of the National Association of Home Builder's Land Development Committee. Whyte has a bachelor's degree in civil engineering from the University of Calgary and is a licensed professional engineer in Alberta, Canada. He and his wife, Billie Jo, live in the Harmony community in St. Cloud, and their daughter, Tamara, is an English professor at a college in Virginia.