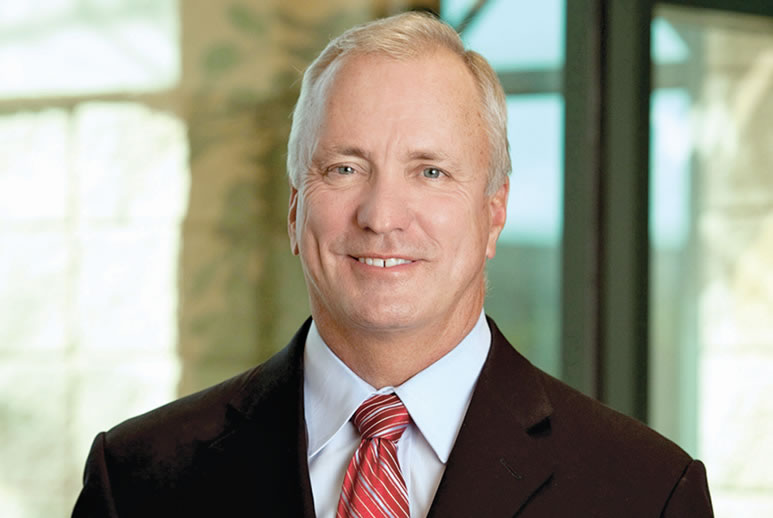 EDWARD BURR
PRESIDENT & CEO, GREENPOINTE HOLDINGS, JACKSONVILLE
Greenpointe Holdings is a diversified real estate development company with communities throughout Florida, including Amelia Walk, a 749-home community in Fernandina Beach, and the Quay Sarasota, a 14.5-acre, mixed-use waterfront development with 695 residential units, a 175-room hotel and 220,000 square feet of commercial and retail space. The company specializes in master-planned communities and urban mixed use.
Burr, a Jacksonville native, started college on a football scholarship at the University of Tampa and received a bachelor's degree from Florida State University. His career began as a CPA with Coopers & Lybrand in Miami and New York City. His first assignment was a real estate development company. "It was random but led to my career," he says.
Burr founded the LandMar Group, which he left in 2007, and has been president and CEO of Greenpointe since its founding a year later. Burr serves as president of FSU's board of trustees and has chaired the Jacksonville Civic Council and Jacksonville Regional Chamber of Commerce. He was named developer of the year by his peers and accepted a gubernatorial appointment to the Jacksonville Transportation Authority. He's been described as "the kind of leader that rolls up his sleeves and gets involved."
In his spare time, Burr is a skier, sport fisherman and golfer.
Burr's first wife, Monique, was killed in a car crash when their two sons were 2 and 5. "Watching them grow and study for their master's degrees and become productive adults makes me very proud," he says. In her memory, Burr founded the Monique Burr Foundation for Children, which operates two programs, Child Safety Matters and Teen Safety Matters, that offer child abuse and bullying prevention education free to public school students in Florida. The programs reach more than 800,000 students in Florida annually.