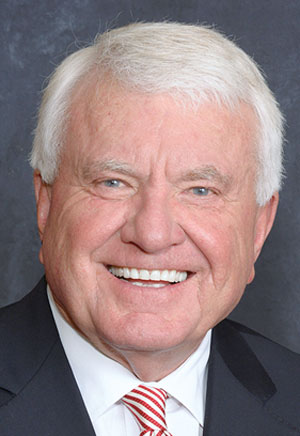 GARY HARROD
FOUNDER & CHAIRMAN, HARROD PROPERTIES, TAMPA
Harrod founded commercial real estate investment and development company Harrod Properties in 1990. Over the years, Harrod Properties has developed more than 15 million square feet of office, industrial, retail and medical properties, including the Gatewood Corporate Center, an industrial park in Lakewood Ranch, and Asturia Corporate Center, a master-planned industrial park in Pasco County. Today the company, with offices in Tampa and Dallas, is run by his son, Chad, who is CEO, and has grown to include affiliated companies Harrod Healthcare Real Estate, Harrod Services and HP Realty Associates.
Harrod is chairman of the Hillsborough County Aviation Authority, vice chairman of the University of Tampa board of trustees and is on the board of Bank of Tampa. He was inducted into the Tampa Bay Business Hall of Fame in 2019, praised for his decades of contributions to the region's business community. "He's willing to take risks, he can overcome obstacles, and he will beat you down a mountain," said James Ferman of Ferman Motor Car Co. "He's a good example of making a well rounded and comprehensive change to the Tampa Bay landscape, and we are all better for it."
Earlier in his career, Harrod, a graduate of Texas Tech University in finance, served as Florida managing area partner for Trammell Crow for 12 years.