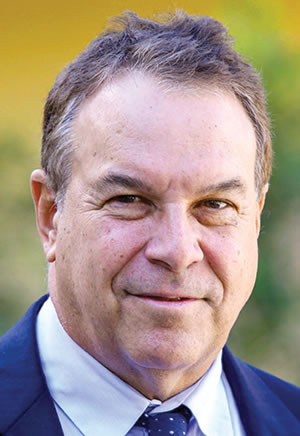 JEFF GREENE
INVESTOR & DEVELOPER, PALM BEACH
Greene earned money as a busboy and waiter at the Breakers and taught Hebrew school during the summers while earning his undergrad degree at Johns Hopkins. After spending three years on the road setting up ticket-selling operations for the circus, he saved $100,000 and went to Harvard for an MBA while buying and selling real estate. By graduation, he was a millionaire. He continued growing his investments — and also his debt. Long story short, worried about the market, he shorted subprime mortgage-backed securities and became a billionaire. He returned to West Palm Beach in 2009 and became the first major post-crisis investor in the city.
Greene now develops across Florida, California and New York and employs thousands. In downtown West Palm Beach near the Brightline station, he is currently developing One West Palm, twin 30-story mixed-used buildings with residences, hotel rooms and office space planned. When the pandemic bared down, he halted construction and tried to change the mix to nix the office space and hotel, but the city rejected his zoning changes. So construction has begun again. "I am a total believer in this community. The reason I became such an aggressive real estate developer is because I saw this as an unpolished gem," he said of West Palm Beach.
Greene and his wife, Mei Sze, founded the Greene School, a private school with generous financial aid. They also run the Greene Institute to find solutions to income inequality.