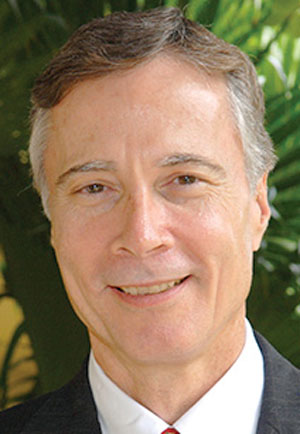 STUART WYLLIE
PRESIDENT & CEO, GRAHAM COS., MIAMI LAKES
Wyllie joined the storied fourth-generation family company in 1990.
The privately held Graham Cos. dates to 1932, when Ernest "Cap" Graham acquired 7,000 acres to start a dairy business. Today, the company is best known for creating and developing the 3,000-acre master-planned community of Miami Lakes in the 1960s. "We build in a way that anticipates we'll own it forever. We eat our own cookie. We all live in Miami Lakes. We want to make money, but we want to be proud of it, too," Wyllie says.
Graham Cos. owns part of the land being developed by the Canadian firm Triple Five as the American Dream Miami mega mall. Triple Five developed the Mall of America in Minnesota. Wyllie's firm plans on building a mixed-use project on 300 acres south of the mall, including affordable rentals for mall employees and their families.
Wyllie, who was born in Sarasota, worked in the land development business for 14 years before joining Graham Cos. in 1990. He's a graduate of the University of Florida and has an MBA from Nova Southeastern University. Wyllie's father-in-law, Bill Graham, "taught me that it was important to lead by example and that integrity is important," he says.