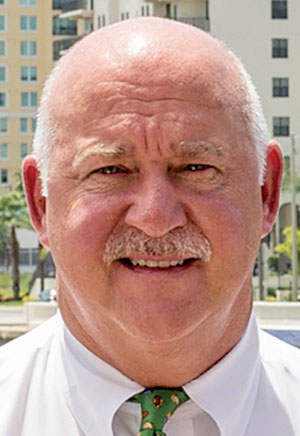 ARTHUR R. SAVAGE
OWNER, A.R. SAVAGE & SON, TAMPA
The Savage family's history in commercial shipping in the Tampa Bay region goes back to 1846, when a Savage family ancestor pioneered commercial shipping on the state's west coast. The company was founded in 1945 by Arthur Russell Savage, who was transferred to Tampa by the Atlantic Coast Line Railroad to become the superintendent of Port Tampa, Tampa's only deepwater port at the time and started the company after returning from service in WWII.
Savage — Arthur Russell Savage's grandson — is the third generation of the family to run the company, which is the largest ship agency, ocean freight forwarding and maritime advisory services company on Florida's west coast. Serving ports in Tampa, St. Petersburg and Manatee County, the company has particular expertise in shipping fertilizers, phosphates and limestone.
Savage, a fifth-generation Floridian, has a master's license from the U.S. Coast Guard. He has served on the board of the Tampa Harbor Safety and Security Committee, Port Tampa Maritime Industry Association, Tampa Maritime Association and Association of Ship Brokers and Agents. He is also consul of Norway and Denmark for Central Florida, dean of the Tampa Bay Consular Corps and has been knighted by Denmark's queen in recognition of his services.