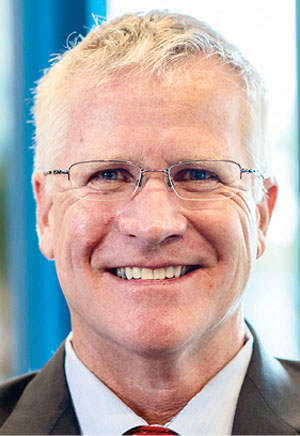 JIM GATTONI
PRESIDENT & CEO, LANDSTAR SYSTEM, JACKSONVILLE
As leader of the third-party logistics company, Gattoni oversees the operations of one of the largest for-hire transportation carriers in North America.
Landstar works with more than 10,000 owner-operators in the U.S., Canada and Mexico. The company uses the business capacity operators model, by which drivers choose their loads rather than being dispatched as they are in traditional trucking companies.
Landstar reported $994.9 million in revenue in the fourth quarter of 2019 and was ranked No. 8 on the 2019 Transport Topics Top 100 list of largest for-hire carriers in North America.
Gattoni, a CPA, joined Landstar in 1995. Starting as the corporate controller, he became vice president, CFO and president before being named president and CEO in 2014.
In 2015, he was elected to the company's board of directors. Before joining Landstar, Gattoni was in the audit division of KPMG. He earned a bachelor's degree in accounting from Ramapo College in New Jersey.