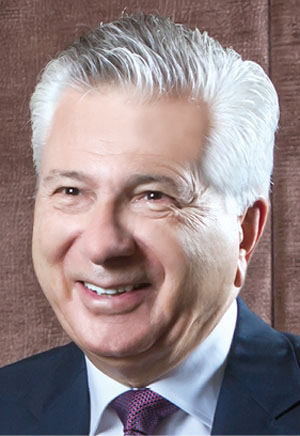 MOHAMMAD ABU-GHAZALEH
CHAIRMAN & CEO, FRESH DEL MONTE PRODUCE, CORAL GABLES
Abu-Ghazaleh has led a renaissance at Fresh Del Monte since buying the business in 1996. When Abu-Ghazaleh took over, the company had limited product offerings and was burdened with millions in debt, according to CEO Magazine. Today, the firm has some $4.5 billion in revenue from more than 100 products and more than 40,000 employees in more than 100 countries worldwide. The company produces, markets and distributes fresh and fresh-cut fruit and vegetables, along with prepared fruit and vegetables, beverages and snacks.
Abu-Ghazaleh's father was a fruit importer in the Middle East in the 1950s. Abu-Ghazaleh studied business administration at the American University in Cairo (AUC) and was president and CEO of United Trading from 1986-96, when he bought Fresh Del Monte. He took the company public in 1997.
Abu-Ghazaleh also serves as chairman of International General Insurance, chairman of the Royal Jordanian Air Academy, chairman of Arab Wings and chairman of Queen Noor Civil Aviation Technical College. He is chairman of the Abdali Clemenceau Hospital project in Amman, a $290-million development.
He is a member of a group of public- and private-sector leaders who advise King Abdullah II of Jordan on economic and social issues.