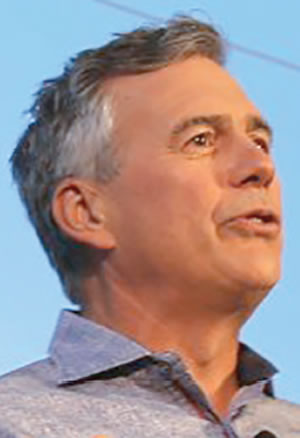 RICH HUME
CEO, TECH DATA, ST. PETERSBURG
In March 2021, Tech Data and Synnex announced they were merging in a transaction valued at about $7.2 billion (including net debt). Hume is serving as CEO of the combined company, which has approximately $57 billion in estimated pro forma annual revenue and a staff of more than 22,000.
Hume first joined Tech Data as COO in 2016. He became CEO in June 2018, overseeing the strategic direction of the company and its global operations. He previously worked for IBM for more than 30 years, serving as general manager and COO of global technology services.
One of Florida's biggest firms, Tech Data is a distributor of computer, phone and other technology equipment for companies like Apple and Cisco. The company is ranked No. 90 on the Fortune 500 and has been named one of Fortune's World's Most Admired Companies for 11 straight years.
Hume earned a bachelor's degree in accounting from Penn State University. He serves on the council of governors for Tampa Bay Partnership and on the board of directors for CEOs against Cancer, Florida Chapter.