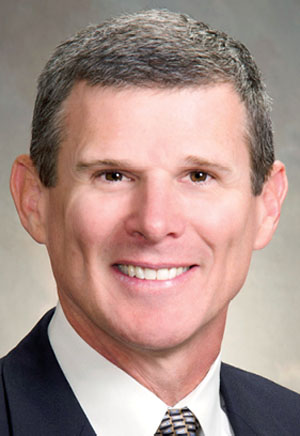 ROB BURNETTE
PRESIDENT, BADCOCK FURNITURE, MULBERRY
Burnette came to the privately held furniture retailer in 1985 and worked his way up from the human resources department to COO. In 2016, he succeeded Mike Price as president and began overhauling the firm's independent dealer system so managers could focus on sales rather than collections and financing. In 2018, he accepted the national Home Furnishings Association's Retailer of the Year award for businesses with more than $10 million in annual revenue.
Badcock Furniture, which dates to 1904 in Maitland, has more than 350 dealer- and company-owned stores throughout the Southeast. "I like retail because you are meeting customers' needs and helping them with their dream of making their house a home," Burnette says.
Burnette grew up in Lakeland and graduated from Florida Southern College. He says he was "blessed to have had strong community leaders, such as George Jenkins of Publix and Wogie Badcock Jr., who taught us the value of giving back to the communities we serve."
Burnette has served two terms as board chair for the Lakeland Family YMCA and is a member of Leadership Florida. He says he also has "a heart for" Young Life Ministry and reads the Bible in his spare time.