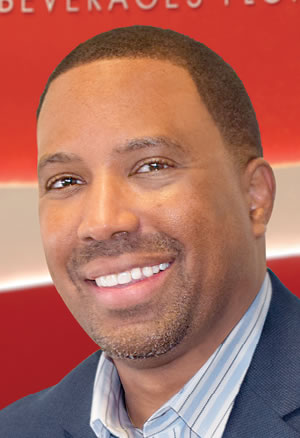 TROY TAYLOR
CHAIRMAN & CEO, COCA-COLA BEVERAGES FLORIDA, TAMPA
The third-largest privately held and sixth-largest independent bottler of Coca-Cola products in the United States, Coke Florida sells, manufactures and distributes more than 600 products from Coca-Cola and other partner companies. Its territory covers more than 20 million consumers across 47 Florida counties, and it's one of America's largest black-owned businesses. It was named a supplier of the year by the Florida State Minority Supplier Development Council in 2020.
Taylor and former business associate Reginald Goins put together the Florida company in 2015. After graduating from Marshall University with a bachelor's of business administration degree in finance and business law, he was a vice president at JP Morgan and later founded his own equity firm. He says he'd always been interested in the soft drink business, and his role as an investment banker and adviser for Coca-Cola and one of its bottlers gave him insight into the company's operations before he began planning how to become one of the company's bottlers.
Taylor serves on various boards, including the Coca-Cola Bottlers' Association and American Beverage Association. He is a former board member of the Federal Reserve Bank of Atlanta/Jacksonville Branch and was named EY Entrepreneur of the Year in Florida for the consumer products category in 2018.