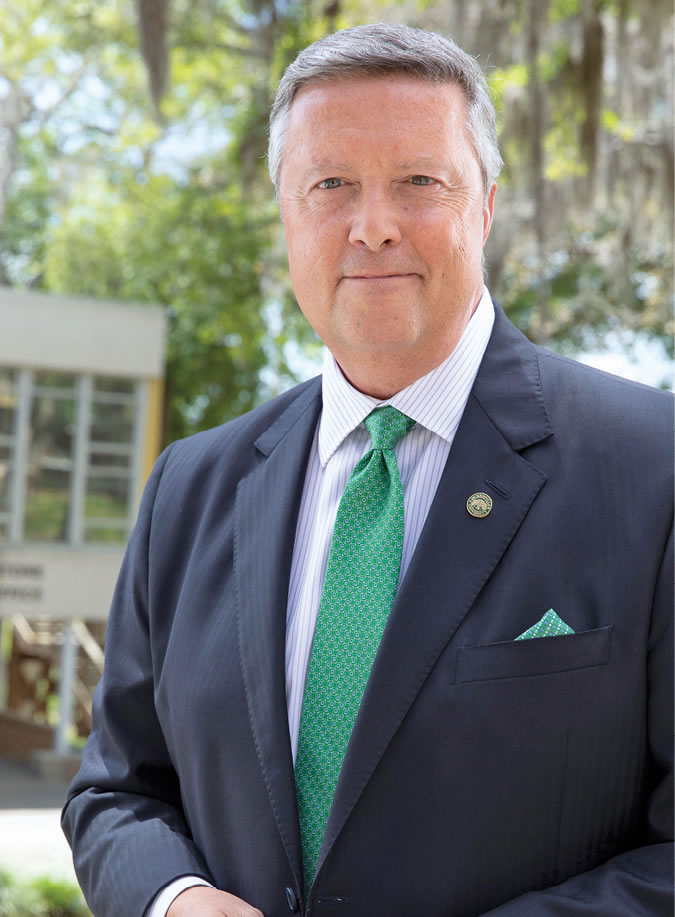 TIM COST
PRESIDENT, JACKSONVILLE UNIVERSITY, JACKSONVILLE
Cost is a JU graduate who pitched on the school's baseball team and is one of the school's top 10 winningest pitchers, throwing a nine-inning no-hitter as a freshman. The first JU alum to serve as the school's president, he also earned an MBA at the University of Rochester.
Cost had a successful 30-year career with companies including Bristol-Myers Squibb, Kodak, Aramark, Wyeth and PepsiCo, where he became an executive vice president and later consultant. He served on JU's board before taking the president's job in 2013.
"I spent many years working in the corporate world in a variety of industries and learning what makes a great leader," he says. "Then I moved to higher education and found that leadership can travel. The same traits and ideals that make exceptional leaders apply in any setting."
During his tenure, the school has added a range of additional programs. Cost has attracted more than $50 million in investment to the school's riverfront campus and has led a $120-million development campaign. He's also become a player in the city's civic and economic development circles, serving as chairman of the Jacksonville Civic Council, chairman of JAXUSA Partnership, chairman of the education advisory board of the Northeast Florida STEM/Hub Initiative, and chair of the Jacksonville Sheriff's Strategic Initiative on Community Outreach. He's also served on the boards of the Jacksonville Symphony Orchestra, WJCT Public Broadcasting and JaxSports.
His favorite part of being a leader, he says, is the "immense satisfaction in helping people get to a place together that they thought was difficult to get to alone. I am focused on unleashing talent and cooperation — not harnessing it. My goal is to cultivate an environment where people can be creative, innovative and have some fun in their job, because the very nature of providing higher education is a worthy calling."
"Once longer-term climate issues are truly addressed, the most important issue facing Florida is a coordinated attack to develop great talent for the future."