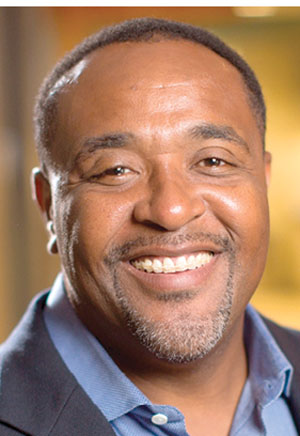 HAROLD MILLS
CEO, VMD VENTURES, ORLANDO
Mills landed in Orlando in 2000 after working as a manager at General Electric and AT&T and joined ZeroChaos, then a small company that provided payroll processing and other back-office services to other companies. Mills transformed it into a global high-tech staffing company and took control of the firm in a 2004 management buyout. Under his leadership, ZeroChaos surpassed $3 billion in annual revenue and was recognized as one of the country's largest black-owned business, with 800 employees managing 100,000 workers in dozens of countries.
The Snow Phipps Group, a New York private equity firm, acquired the company for $200 million in 2011. Mills stepped down as CEO in 2016 and started VMD Ventures to focus on enabling other aspiring entrepreneurs. "It is a platform to invest in leaders that create technologies and tech-enabled services that fundamentally change or create new market spaces," he says.
Mills grew up in Dayton, Ohio, where his mother worked in a hospital and his stepfather worked in a foundry. In middle school, he decided he wanted to go to the local prep school and talked his way into a partial scholarship, according to a 2008 profile in the Orlando Sentinel. By the time he was 16, he was interning at GM. He says he had dreams of one day becoming a surgeon — "if only I could have tolerated school that long." He ended up getting a finance degree from Purdue University — he met his future wife, Rosy, during freshman orientation — and eventually earned a master's in business administration from Harvard.
Mills launched his career at General Electric in the company's fast-track management program. He went on to become a general manager of one of AT&T's emerging technology business units before joining ZeroChaos. He serves on the board of GuideWell and Florida Blue, Rollins College, the University of Central Florida, the Dr. Phillips Performing Arts Center and LIFT Orlando, which is transforming one of the worst ZIP codes in Florida through more than $120 million investments in housing, education, health and economic development.
He also serves on the Orange County Economic Recovery Task Force responding to the COVID-19 pandemic. He previously served as a board member for the Florida Council of 100, Florida A&M University and the Jacksonville branch of the Federal Reserve Bank of Atlanta. He resides in Orlando with his wife and three children.
| | |
| --- | --- |
| RESOLUTION KEPT | At least one random act of kindness each day. So far that has included providing a meal to a homeless man, to giving someone an umbrella, to an unexpected call to say thank you, among others. |
| FAVORITE VACATION | Dude ranch in Colorado with my family. From riding horses for eight hours every day through the mountain terrain, to camp fires at night, to retrieving eggs from the hen house, the simplicity of no access to cell phones and enjoying nature was awesome. |
| FAVORITE PART OF LEADERSHIP | The impact I have on people's lives. I treat everyone I work with appreciating the number of dinner plates at each of my employee's tables I am responsible for every day. |
| STAYING FIT | Primarily through yoga, Peloton and the gym. I've found meditation is the best anchor and start to every day. |
"I have been blessed to have had an amazing career in corporate and as an entrepreneur. The journey has taught me the value of innovation and continuous reinvention, but most importantly the value of the people and their passion and their willingness to believe in a vision alongside of me."