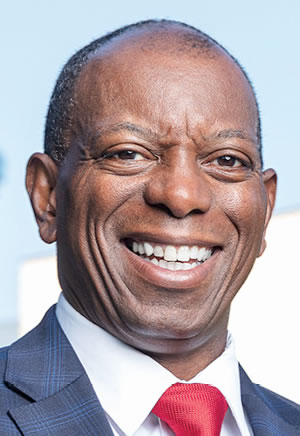 KEITH HOSKINS
executive VICE PRESIDENT, branch operations, NAVY FEDERAL CREDIT UNION, PENSACOLA
Hoskins joined Navy Federal in 2019 as executive vice president after a stint at Gulf Power and 27 years in the Navy. He was named executive vice president of branch operations at Navy Fed earlier this year.
Hoskins grew up in a Kansas City suburb as the youngest of six children. He says he bonded with his father, who served in the Army and as a police commissioner in Parkville, Mo., over a love of airplanes. Hoskins became a Navy fighter pilot, flying from an aircraft carrier, and a member of the Blue Angels flying team. He earned a bachelor's degree in electrical engineering technology from Missouri Western State University, where he also played football, and a master's from the Industrial College of Armed Forces.
Over the course of his Navy career, Hoskins led a 260-member air squadron based in Norfolk, Va., directed the Navy's ROTC program and was commanding officer of NAS Pensacola.