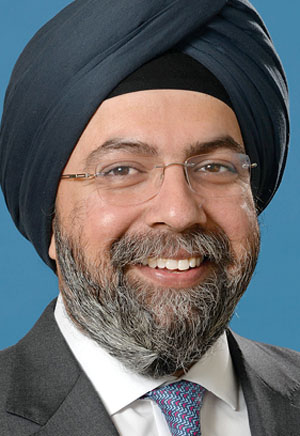 RAJINDER SINGH
PRESIDENT, CEO & CHAIRMAN, BANKUNITED MIAMI LAKES
"I am a chemical engineer-turned-banker. It's not a normal career path, but I have no regrets," says Singh, who became the bank's president and CEO in 2017 and chairman in 2019.
Singh grew up in India and got his bachelor's degree in chemical engineering from the Indian Institute of Technology in New Delhi. "At 22, I bought a one-way ticket to the United States and got on the plane with $700 in my pocket," he told the Miami Herald in 2017. "I worked as a chemical engineer and managed the midnight shift at RUCO Polymer, a specialty chemical manufacturing company in Hicksville, NY. I left the company to attend graduate school."
After getting his MBA from Carnegie Mellon University, he worked in the mergers and acquisitions group of FleetBoston Financial, where he was involved in more than 20 deals in nine years. He then led corporate strategy for North Fork Bancorp., which was acquired by Capital One, and was a managing director overseeing the financial services group at WL Ross and Co.
In 2009, federal regulators seized control of BankUnited as it collapsed amid the mortgage crisis and sold the thrift's banking operations for $900 million to a private investor group that included WL Ross. Singh then helped re-launch BankUnited, guiding it through its public offering as COO in 2011. Today, BankUnited is the second-largest Florida-headquartered bank with more than $32 billion in assets and nearly $25 billion in deposits. It has about 80 banking centers in Florida and New York and employs 1,500 people. Last year, it made a profit of $313.1 million.
"Much of what BankUnited has become is the fruit of our first days," he told the Herald, adding, "We never steered away from our core competencies."