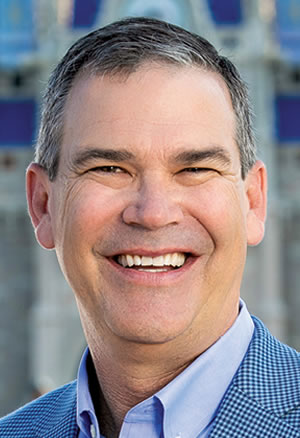 JEFF VAHLE
PRESIDENT, DISNEY WORLD RESORT, CELEBRATION
Vahle, with a bachelor's degree in mechanical engineering from Auburn University and an MBA from Rollins College, has worked for Disney for 30 years, holding leadership roles in operations, engineering, technology and global support services. He took over as CEO of the nation's largest single-site employer in 2020, overseeing more than 75,000 employees and four theme parks, two water parks, 28 hotels, four golf courses and a transportation system.
Vahle also continues to oversee facilities and operations services for Disney theme parks worldwide — engineering, maintenance, construction, utilities, manufacturing, sourcing and procurement, safety and health, and asset management programs at all Disney resorts. He moved into his current position after serving as president of Disney Cruise Line and the Disney Vacation Club. He expanded the cruise line with three new ships.
He serves as chairman of the board for Give Kids the World and is also a member of the Rollins College board of trustees.