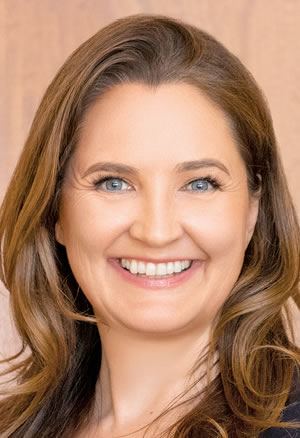 KRISTIN JOHNSON KARP
CO-FOUNDER, PRESIDENT & CEO, HOTWIRE COMMUNICATIONS, FORT LAUDERDALE
Karp, who was once a chef and restaurant owner, grew up in South Dakota in a family of entrepreneurs and businesspeople. Their example, she says, "inspired my desire to be a businesswoman." She is a graduate of Lawrence University. Through her restaurant, she met and married Michael Karp, who had founded local exchange carrier ATX Telecommunications. After the sale of that company, the spouses co-founded Hotwire Communications in 2000.
Hotwire, which moved its headquarters from Pennsylvania to Fort Lauderdale in 2016, has regional offices in Georgia, North Carolina and Philadelphia and customers in 15 states using its digital HD TV, high-speed data, telephone and smart home technology services. The firm has eliminated paper billing and switched to largely paperless communications, both internally and externally.
Karp is an outspoken advocate for women in tech fields. "Today, women hold more than 50% of the jobs in America, but only 12% are engineers. We need more women to fill those STEM positions and roles within companies. Women make up one-half of the population, and if you take one-half of the good ideas off the table, you'll just be losing so much brain power and talent," she told Cablefax. Hotwire aims to have women constitute at least a third of its tech workforce. It conducts coding programs for girls through its technology center.
Company accolades and recognitions include PCMag's Best Gaming ISP of 2019 and the National Cable Television Cooperative's Innovator Award. In June 2019, it held the top position on the Netflix ISP Speed Index.