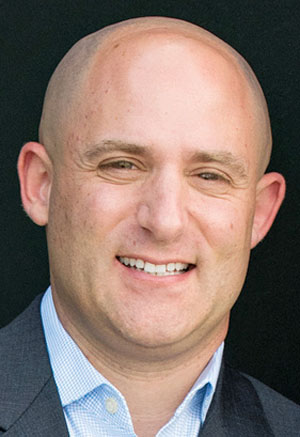 KEN BABBY
OWNER, JACKSONVILLE JUMBO SHRIMP; CEO, FAST FORWARD SPORTS GROUP, JACKSONVILLE
Babby has a lifelong relationship with baseball. As a child, he was a ball boy during spring training games for the Baltimore Orioles — not knowing in those days that he'd eventually own his own professional baseball team, the Jacksonville Jumbo Shrimp, the AAA affiliate of the Miami Marlins.
Coming from a sports management family — his father, Lon, was general counsel for the Baltimore Orioles and later president of basketball operations for the NBA's Phoenix Suns — Babby didn't always work in sports. He earned an undergraduate degree from Wheaton College in Massachusetts and an MBA from Johns Hopkins University and spent part of his career as the chief revenue officer and general manager for the Washington Post's digital operations.
In 2012, when he was 32, he purchased baseball's Akron Aeros, renaming the team the Rubber Ducks, and purchased the Jacksonville Suns in 2015, renaming them the Jumbo Shrimp in 2017. Babby, an at-large member of the Jacksonville Chamber of Commerce's board of directors, is optimistic that 2021 will be a better year for Minor League Baseball than 2020, which saw the pandemic cancel the season.
"It was a catastrophic financial hit to the company," Babby told Florida Trend. "We're really fortunate we went into the pandemic with very little debt."