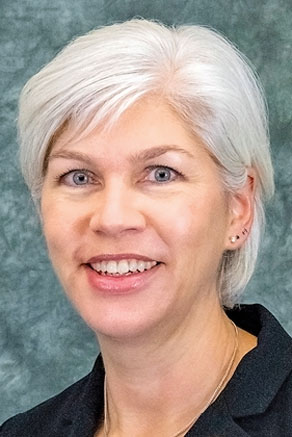 LISA JOHNSON
CEO & GENERAL MANAGER, SEMINOLE ELECTRIC COOPERATIVE, TAMPA
Seminole, which provides wholesale electric power to nine electric cooperatives serving 1.8 million people and businesses in parts of 42 Florida counties, is one of the nation's largest generation and transmission cooperatives.
When Johnson came aboard Seminole Electric Cooperative to replace retiring CEO Timothy Woodbury in 2013, she took over a utility heavily reliant on coal. The Seminole Generating Station in Putnam County consists of two 650-megawatt, coal-fired generating units, while the 810-megawatt Midulla Generation Station on the Hardee/Polk County line uses natural gas as its main fuel.
Under her leadership, Seminole has diversified its energy portfolio with the addition of a 2.2-megawatt solar facility in Hardee County, and it's currently building a natural gas-fired unit to replace one of the coal-fired units in Putnam County. Seminole also has contracted with Florida Renewable Partners (a unit of NextEra Energy) to build additional solar-generating facilities.
Before joining Seminole, Johnson was senior vice president and COO of Old Dominion Electric Cooperative in Glen Allen, Va., where she had worked since 2006. Before that, she worked for 11 years for the Southern Co. and Mirant. A 1998 graduate of Duke University, Johnson started her career as an applications engineer for a small energy company focused on co-generation technology.
She serves on the board of the Electric Power Research Institute and in 2019 was named a Champion in Energy by Florida's Women in Energy Leadership Forum, which was founded by former Florida Public Service Commission Chair Lila Jaber. Johnson told the group she pursued a career in energy because she is a problem-solver.
"I like to understand what makes things work, and more particularly what happens when they don't — and why."