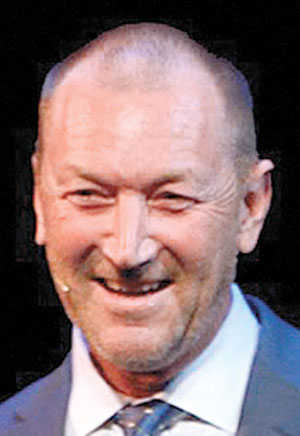 MARK MORSE
PRESIDENT, THE VILLAGES, THE VILLAGES
Morse is the son of the late H. Gary Morse, who began the transformation of a former Sumter County trailer park into one of the largest retirement communities in the country that now sprawls into Lake, Marion and Sumter counties with more than 50,000 homes, 50 golf courses and three town squares where residents gather for clubs, dancing and cocktails. Mark Morse and his sisters, Jennifer Parr and Tracy Mathews, received ownership of The Villages after their father's death in 2014.
Today, Morse presides over a development with a population of more than 128,000, and his sisters are senior executives. They have no plans to slow down growth: The Villages is expected to nearly double in size in 20 years, according to development plans submitted in January.
A Republican bastion whose residents' median age is 70.6, the Villages in 2018 became one of the first communities in the United States to offer taxi service using autonomous vehicles throughout the community.