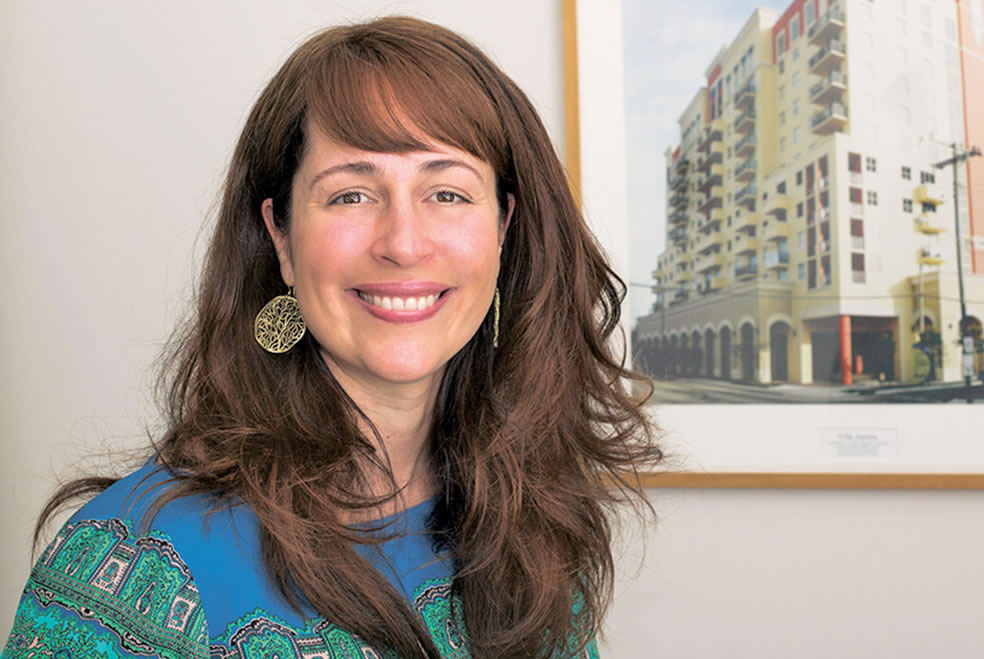 STEPHANIE BERMAN-EISENBERG
PRESIDENT, CARRFOUR SUPPORTIVE HOUSING, MIAMI
A Miami native educated at Brandeis (sociology) with a master's from Harvard in administration, planning and social policy, Berman-Eisenberg has spent her life working for the homeless and underserved, with seven years at the Children's Home Society and after that at Carrfour, where she was a vice president and, since 2006, president.
Carrfour is a non-profit launched by the Greater Miami Chamber of Commerce in 1993. It differs from other affordable housing developers in its focus on supportive services in addition to low rent. "I think our competitors would say that Carrfour and its employees are tenacious and persistent," she says. "They would say that we do the most difficult real estate transactions, the ones most competitors would walk away from, in order to serve the most vulnerable in our community."
It has 1,742 units with 3,300 residents. A project aims to house "high utilizers" of hospitals, jails and shelters to show that their endless cycling through systems can end and save taxpayers money. "They are the men and women everyone says can't be housed or don't want to be housed," she says. "Many of us believe that we have to end homelessness because it's the right thing to do morally. We now also know that it's the right thing to do fiscally. Regardless of perspective, ending homelessness saves lives and money."
Berman-Eisenberg has served on the affordable housing committee for Miami Beach and a community advisory committee for JP Morgan Chase. "It's amazing how quickly things begin to fall into place when we have a stable, safe and decent home for our families," she says. "It's especially meaningful seeing the children who are now teens or young adults who grew up in our supportive housing. You can knock on just about any door in a Carrfour community and be inspired by deeply personal stories of courage, resilience, accomplishment and contribution."
She wishes she never again would have to "explain why people are still homeless and struggling with poverty in our community — a community with so much wealth. Collectively, we need to do better."
"Anything is possible when a committed group of people come together on behalf of a common vision and take the actions necessary to bring that vision to life each day. We do that better together than anyone could possibly do on their own. That means lifting each other up, working as a diverse team of talents and perspectives, holding each other accountable, recognizing that nothing replaces taking one positive step after another and another, and constantly learning and evolving."
Her personal hero is her grandmother, who lived to 104. Her grandmother left Eastern Europe alone right before the Holocaust and made her way to Cuba. She and her husband, Berman-Eisenberg's grandfather, created a "wonderful life" there but had to flee for the second time in her life when Castro came to power. "Despite these challenges, she had a remarkable zest for life, a contagious inner happiness and a kind heart," she says.
Being a parent has led her to take up fishing. "As a mother to sons, I find myself taking on new activities all the time that are outside of my comfort zone."