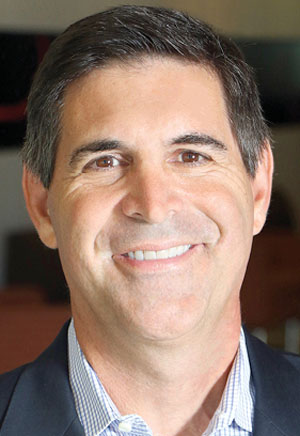 KEVIN BURGOYNE
PRESIDENT & CEO, FLORIDA VENTURE FORUM, MIAMI
Unlike those who move to Florida to join Disney, Burgoyne left the state to join the Mouse. He moved to New York after graduating from the University of Florida to start his career as a marketing rep for the Disney Channel.
He amassed two decades of experience at corporations and in private investment with senior-level roles in sales, marketing and communications at Disney, PanAmSat and Global Crossing and, beginning in 2006 in South Florida, with a multi-family office focused on real estate and tech investing. He has been a principal or consultant for tech startups and private investment groups.
He joined the forum's board in 2012. In its 36 years, the forum has featured more than 1,200 companies and mentored thousands more. In one 10-year period, it reports, companies raised more than $6 billion after presenting at forum events.
Burgoyne, a University of Chicago MBA, is a licensed nautical captain who does the occasional boating charter on weekends. Water quality is an issue he ranks high among Florida concerns. He's been active in Take Stock in Children. He's served on the board or advisory board for the Tampa Bay Innovation Center, Enterprise Florida Stakeholders Council and StartupQuest. Says Burgoyne, "We have a tendency to think of certain occupations as creative and others as much less so, but the fact is we can bring creativity — even artistry — to any occupation. I'm not 'artistic' per se, but thinking of every new project as a blank canvas and every new strategy or tactic as a brush stroke on the way to a masterpiece can really help inject energy and passion into any project or occupation."
"I appreciate much more than I used to the role creativity plays in every aspect of business."