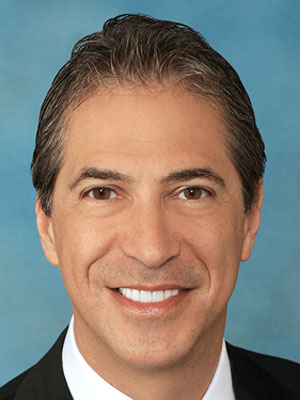 MARC LEDER
CO-CEO, SUN CAPITAL PARTNERS, BOCA RATON
Krouse and Leder met while both studied economics at the Wharton School at the University of Pennsylvania. "We coincidentally began working together and climbed up the ladder professionally at Lehman Bros.," says Krouse. They decided to start their own firm and in a "complete leap of faith" moved their families away from New York City with the idea of investing in companies in the Southeast.
Operating at first from home offices in Boca Raton, they built a global equity firm that since 1995 has invested in more than 375 companies worldwide with revenue in excess of $50 billion. The partners have particular expertise in business and consumer services, health care, industrial and consumer sectors. Today, the firm has offices in Boca Raton, Los Angeles and New York and an affiliate with offices in London.
Leder is a passionate supporter of the arts and serves on the Institute of Contemporary Art at the University of Pennsylvania's board of overseers. "In another life," he says, "I could envision myself being a professional art collector and pursuing this passion." Krouse, who speaks Mandarin, is a jazz fan and keeps "a bookcase in my office from which people can help themselves to new reads."
The two started the Sun Capital Partners Foundation to support innovative non-profit organizations. The foundation has donated over $13 million to more than 700 organizations, including the American Heart Association, American Red Cross, Autism Speaks and Boca Helping Hands. This year, the foundation made a donation to an organization called Charity: Water, which provides water and sanitation to communities in developing countries.