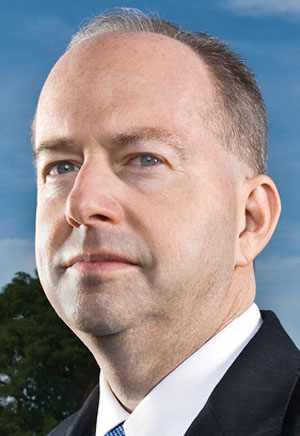 GEORGE LEMIEUX
CHAIRMAN, GUNSTER, FORT LAUDERDALE
LeMieux heads up Gunster, one of the state's largest and oldest law firms, where he specializes in business litigation and helps CEOs and C-suite executives resolve business and governmental disputes. A player in Florida politics, he served on Gov. Ron DeSantis' transition team and has a political resume stretching back more than two decades.
LeMieux, who grew up in Coral Springs and earned an undergrad degree from Emory and a law degree from Georgetown, cut his political teeth in Broward County. In 1996, the young Gunster attorney was elected president of the Broward County Young Republicans. By 2002, LeMieux was running the Broward County Republican Party. He quit Gunster in 2003 to serve as chief of staff and deputy attorney general to then-newly elected Attorney General Charlie Crist, then a Republican.
LeMieux served as campaign manager of Crist's successful campaign for governor in 2006 — Crist called him his "maestro" — and returned briefly to Gunster in 2008, during which time he published the LeMieux Report, a weekly electronic newsletter providing information on the "hottest issues of the week" impacting Florida business. He stepped away from the practice again in 2009 when Crist tapped him to fill out the remaining 16 months of Sen. Mel Martinez's term in the U.S. Senate — a move that all but guaranteed Crist would be able to run for the seat himself in 2010. LeMieux enjoyed his time in the Senate, telling Florida Trend in 2010 it was the "best job" he'd ever had.
Crist's 2010 Senate campaign, meanwhile, didn't go as planned. Trailing former House Speaker Marco Rubio in the polls, Crist dropped out of the GOP primary in the spring to run as an independent and ultimately lost in the general, coming in second to Rubio. Crist's GOP defection fractured his relationship with LeMieux. "This isn't the Charlie Crist I knew," LeMieux wrote in an op-ed he penned for the Tampa Bay Times shortly after Crist announced he was a Democrat in 2012.
LeMieux made an abbreviated run for the Senate in 2012 but dropped out of the GOP primary amid lackluster fundraising and hasn't run for public office since. In 2019, he converted his leftover campaign funds into a political action committee called the Florida Freedom Committee that donates cash to Republican candidates in Florida and elsewhere across the country. In 2018, he co-authored a book called "Florida Made: The 25 Most Important Figures Who Shaped the State" with former Palm Beach Post reporter Laura Mize. In the introduction, they credit former Florida Agriculture Secretary Adam Putnam with helping to brainstorm with them the "25 shapers of Florida history." All royalties from the book are going to Palm Beach Atlantic University.
LeMieux is the founder of the LeMieux Center for Public Policy at Palm Beach Atlantic University and his senatorial papers are housed at the school's Warren Library. "Mentoring students and bringing world-class leaders to the campus, like Prime Minister Tony Blair, is a great joy," he says.