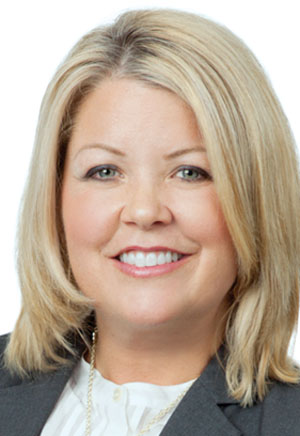 MICHELLE GERVAIS
PARTNER, BLANK ROME, TAMPA
In 2015, Blank Rome, a national law firm based in Philadelphia, hired Gervais from Duane Morris in Miami, where she had developed a successful practice representing large national and international banks. Alan Hoffman, chairman of Blank Rome, said her hiring would strengthen the firm's consumer finance group and add to its expanding presence in Florida. Since then, Gervais has led Blank Rome's Tampa office — one of 14 firm locations across the U.S. — while playing an active role in local community and charity projects.
"I have spent many years devoting a significant amount of time to several charitable organizations, including several causes and organizations dedicated to supporting health care programs and services," she says. As a board member for the AdventHealth Tampa Foundation, she has co-chaired Fashion for Hope, an annual event that raises money for the Kay Meyer Breast Care Center. She also has been a member of AdventHealth's Women of Influence executive board, and she helped organize a holiday fashion show benefiting St. Joseph's Hospital in 2017. She says if she weren't a lawyer, she'd probably be an event planner. "I really enjoy planning events, whether it's a social, networking or educational program. I love seeing it all come together," she says.
Gervais also has a long record of pro bono advocacy and has been recognized by the Miami-Dade County Bar Association for her work on behalf of children and victims of domestic violence. "In the pro bono sphere," she says, "I've represented Holocaust survivors in South Florida in an effort to receive foreign monies, and I've supervised a team of attorneys representing indigent minor immigrant children through deportation and dependency proceedings after they risked their lives escaping rape and gang violence in order to attain legal status in the United States."
Gervais grew up in rural Michigan. In 1991, she finished second runner-up in the Miss Teen Michigan pageant and was voted "miss congeniality" by the other contestants. She graduated from a high school with only 54 students in her graduating class and attended Central Michigan University, where she studied political science and broadcast and cinematic arts. She got her law degree from the University of Miami.
At Blank Rome, she specializes in sports and entertainment, matrimonial and domestic relations, commercial and business litigation and consumer finance law. In recent years, she has been a member of the strategic planning committee for the Women in Sports and Events Tampa Bay chapter and a member of the local advisory committee for the 2019 NCAA Women's Final Four tournament. "Working in tandem with the amazing NCAA Women's Final Four Committee while showcasing all that the gem of Tampa Bay has to offer is a bucket-list adventure," she says.
Among the people she admires most is Karen Ladis, who runs Dade Legal Aid and its Put Something Back pro bono program. "She dedicates her entire life to pro bono and ensuring those less fortunate have access to legal services. She never puts herself first," Gervais says. She says one of her favorite things about leading Blank Rome's Tampa office is mentoring and watching younger attorneys grow in their careers. "I never appreciated the amount of effort, time and patience required for managing other attorneys and assisting them with their development," she says. "It is truly rewarding and continues to teach me patience."
"Working in tandem with the NCAA Women's Final Four Committee while showcasing all that Tampa Bay has to offer is a bucket-list adventure."