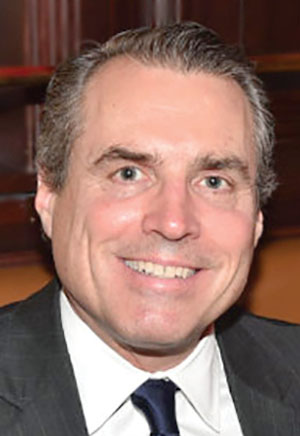 JUSTIN KENNEDY
CO-CEO, GRASS RIVER PROPERTY, MIAMI
Back in 2014, Kennedy and Toby Cobb founded Grass River to invest in South Florida markets that promote walkability and transit connectivity. Kennedy, with 30 years of real estate finance and investment banking experience, leads the firm's investment strategy.
The firm's portfolio includes ownership stakes in Grove Central, a multifamily and retail development that broke ground earlier this year in Miami's Coconut Grove neighborhood steps from the Metrorail station, bus and trolley stops and the new urban Underline park. Nearby, Grass River's investments include Grove Station Tower, 14-story luxury condo, and CocoWalk, a mixed-use center nearby that needed revitalization. Its portfolio also includes the Shops at Sunset Place in South Miami and an Aloft hotel near Miami International Airport.
Before launching Grass River Property, Kennedy was co-CEO of LNR Property and managing director and global head of real estate capital markets at Deutsche Bank, where he led a $50-billion business unit. He also worked at Goldman Sachs and the Principal Investment Group. Kennedy earned a bachelor's degree from Stanford University and an MBA from UCLA.