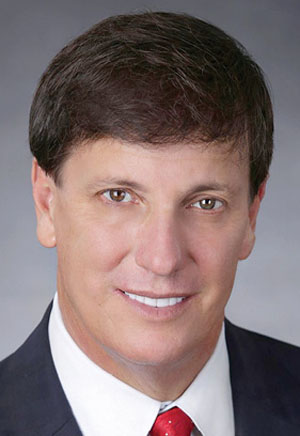 WILLIAM KERDYK JR.
PRESIDENT & CEO, KERDYK REAL ESTATE, CORAL GABLES
"I enjoy the deal-making aspect of the real estate industry — no transaction is the same," says Kerdyk, a native of Coral Gables who took over the family real estate business and served in local government. Kerdyk is currently buying properties south of Coral Gables' Miracle Mile, including paying $2.3 million for a site that formerly housed a dry cleaner. Kerdyk owns three other buildings nearby and the three-to-five-year plan calls for total redevelopment for a high-rise project, he told the Miami Herald in March.
After earning a bachelor's degree in business administration and management with a focus on real estate from Florida International University, he joined Kerdyk Real Estate, the family business, in 1985, and purchased the commercial and residential brokerage from his uncle in 1993. A few years later, he was elected a Coral Gables city commissioner and was re-elected four more times, initiating the city's free trolley service and the community's Parknership open-space program. Kerdyk was elected vice mayor in 1999, 2001 and from 2007-15.
In 2006, Kerdyk founded the Bank of Coral Gables, along with investors. Eight years later, the bank was sold to First American Bank of Illinois. The avid golfer co-founded the Toyota World Junior Golf Team Championship, held in Japan.